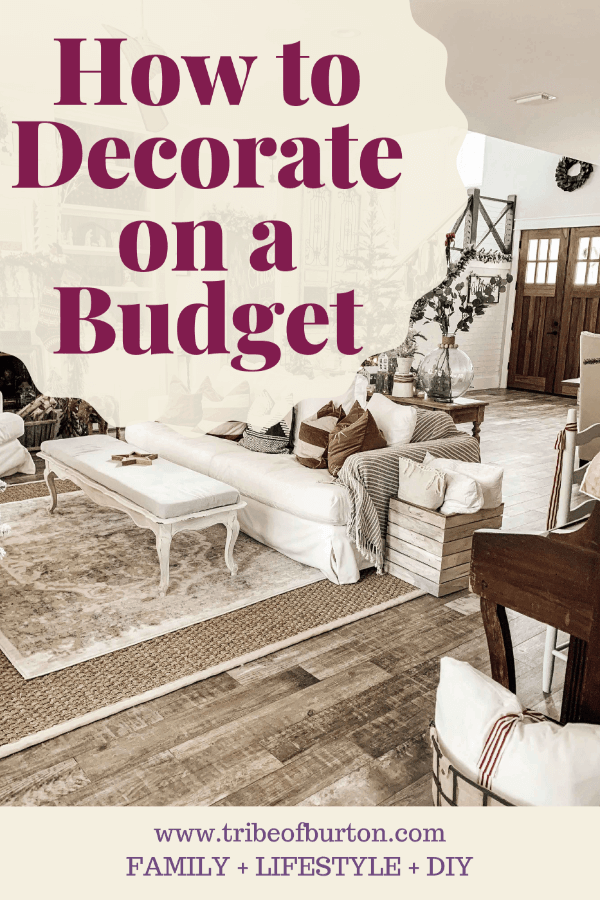 There may be affiliate links in this post. Please read my policy on affiliate links [HERE] if you want.
How to decorate on a budget
Decorating on a Budget
Sometimes it's very hard to look at a magazine or online gallery and see a room you fall in love, to only learn that it cost thousands of dollars. Most of the time when you are looking to revamp a room by changing out the decor you are on a budget. Because you want to decorate on a budget, you have to make sure you spend your money where it counts.

I suggest spending money on pieces that can be used throughout the year in your home. Staple pieces that you can use year round. So because of that it is worth spending the extra money on items that will last a lifetime. Okay maybe not a lifetime but if you spend money on something you want to make sure it last a long time. My aunt has a trunk that I remember her having when I was little. She still has it and I know it has to be over 20 years old now.
Budget Decor Items
Once you have your staple pieces that will last a lifetime, it's time to get your accessories. Seasons change and your design taste will change. In the 1980s – 1990s I bet you couldn't walk into a house without cherry furniture something or wallpaper. In the 1970s it was shag carpet. So just remember that when you start to decide what look you are going for.
I guarantee if you find one thing that cost a lot of money then you can also find a similar item that is a lot less expensive. Take the time to look at garage sales and use the marketplace on Facebook.

Hobby Lobby always has great deals on different styles. They normally have items on sale 50% off each week. And alternate weeks. A tip I learned a few years back (by chance) was I went in late on Saturday night and they were changing out the signs for the next week. The sales clerk told me that I could get 50% off that weeks sales and then go ahead and get 50% off the next weeks items if the signs were already in place. I'm not sure if that is everywhere or just my store but worth a shot to figure out.
Also Hobby Lobby will have seasonal items go on sale for 80% off after the season. I find a lot of spring items that way. They are actually items I can use year around in my house so its a steal!
Jo-ann's and Michael's both have amazing items as well. Both of those stores will have sometimes a coupon off your total purchase, even sale items. I try to wait until I get those in my email before going to shop there. It helps a $50 item that is on sale for 50% off and then 20% off go down to $20.
Budget Friendly Websites
Here is a list of some of my favorite websites. If you have some that aren't listed below – please comment below so I can add them to my list.
Move Things Around & Re-purpose
One of the best pieces of advice you can get when decorating on a budget is to move things around. Before I really started decorating I had an organizer come into my home. She organized all day when I was gone and when I got home everything was everywhere else. IT was amazing at what moving the furniture and decor items could do for the space. It looked like a brand new home.
When I was writing this post I asked my husband what I did a lot with decor items that didn't cost money or cost little money. He said I re-purpose a lot of items. I had to think about it a while and then I realized I do.
Move things around. These [HERE] furniture sliders are amazing when you want to move things by yourself. Of course always be careful when moving furniture. I can move things by myself now and my husband doesn't complain as much.

These hooks [HERE] are great for hanging things on the wall. They are easy to insert and they don't leave such huge holes in the wall when you want to move wall pieces around. Heavier items like mirrors I normally leave up in the same place for a while.
Smaller accessory items can be easily moved from room to room. I normally will move containers, books, flowers, and baskets from room to room. Without spending any money you can have an entirely new look for a space just by changing out the smaller items in a room.
You can see the same bench below. I've used it as an entryway bench for seating and then as a table for in front of the couch.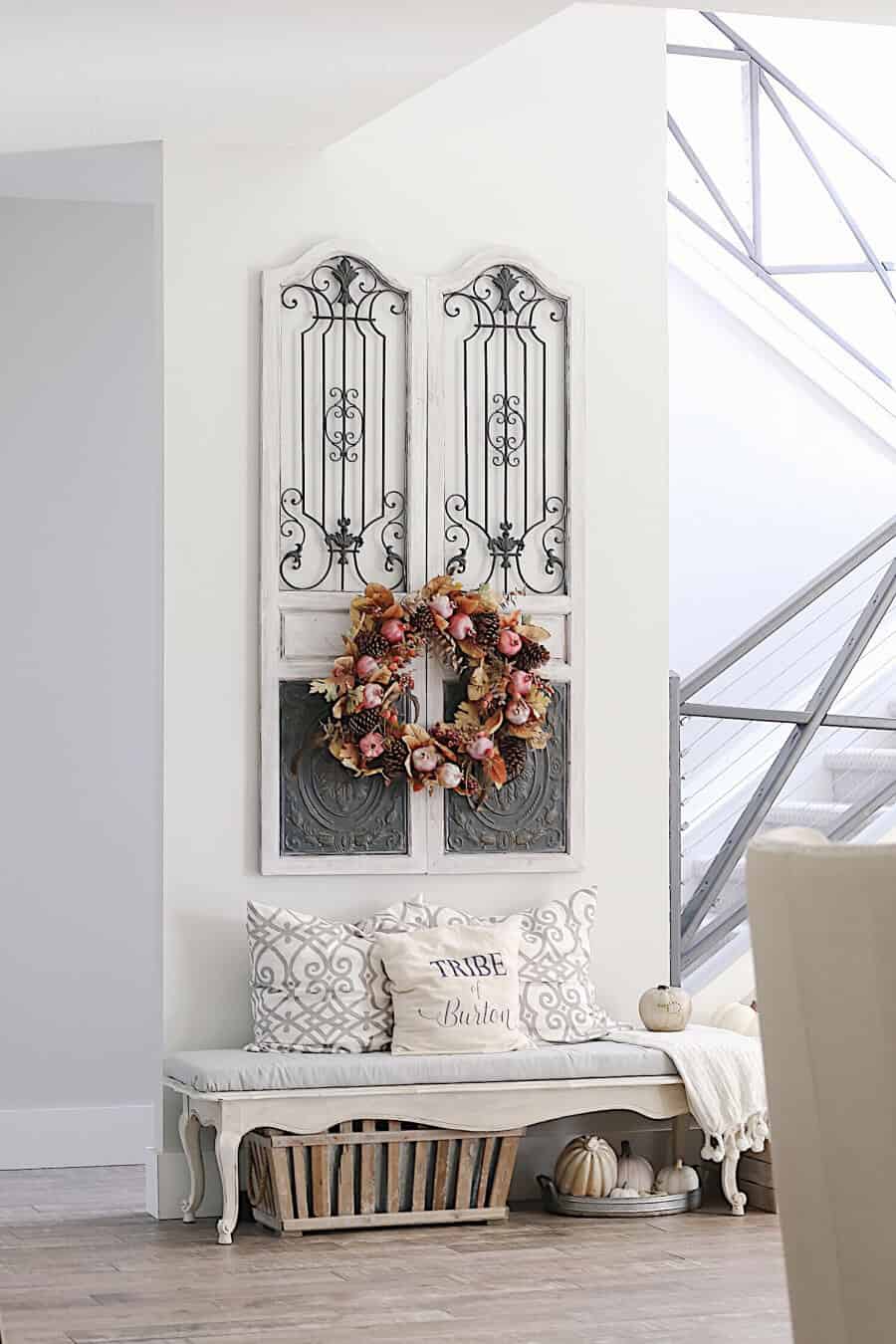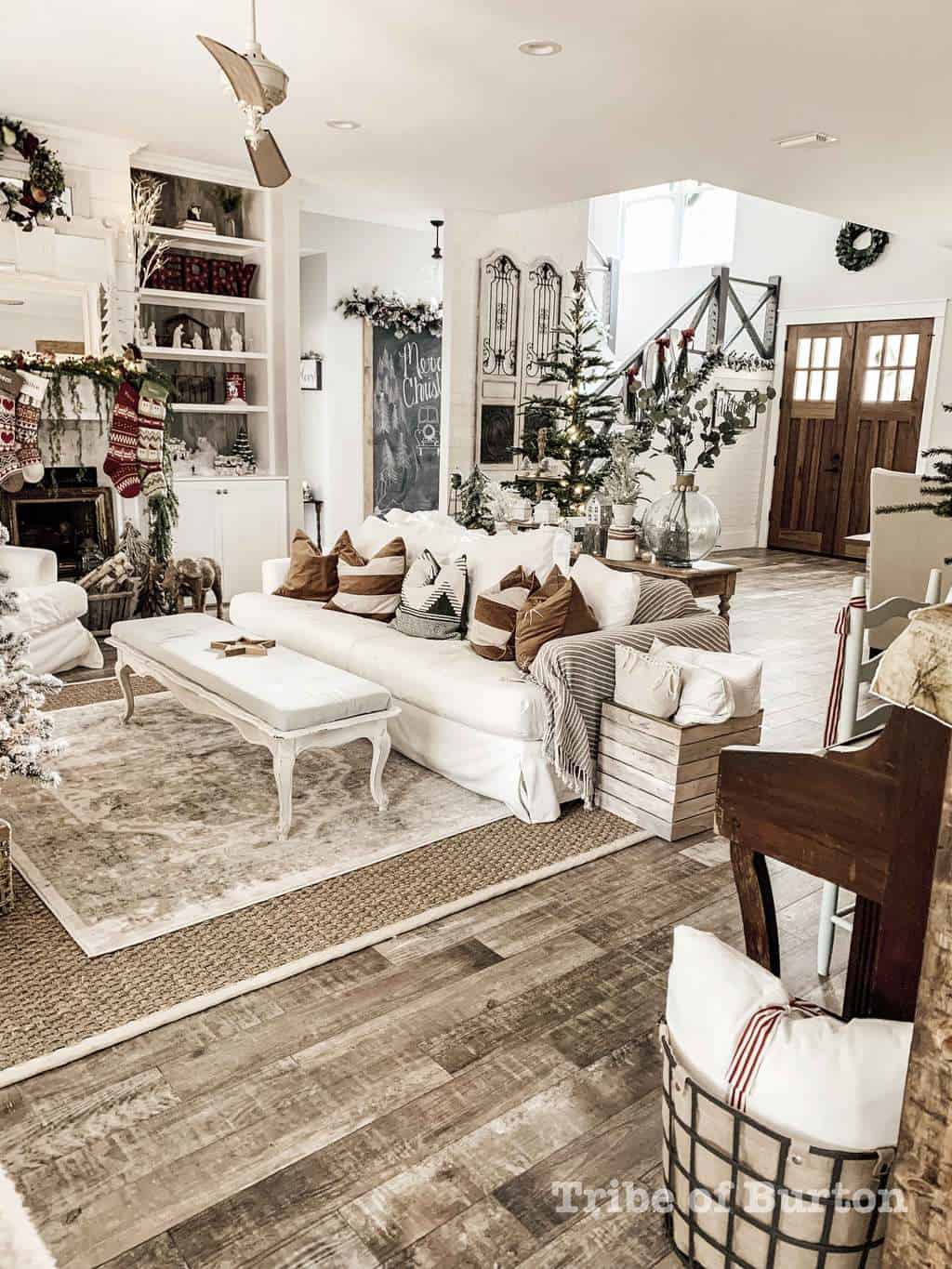 There is a chicken feeder that I store pumpkins in during the fall and then at Christmas move to the bedroom and put battery operated candles in. See the pictures below.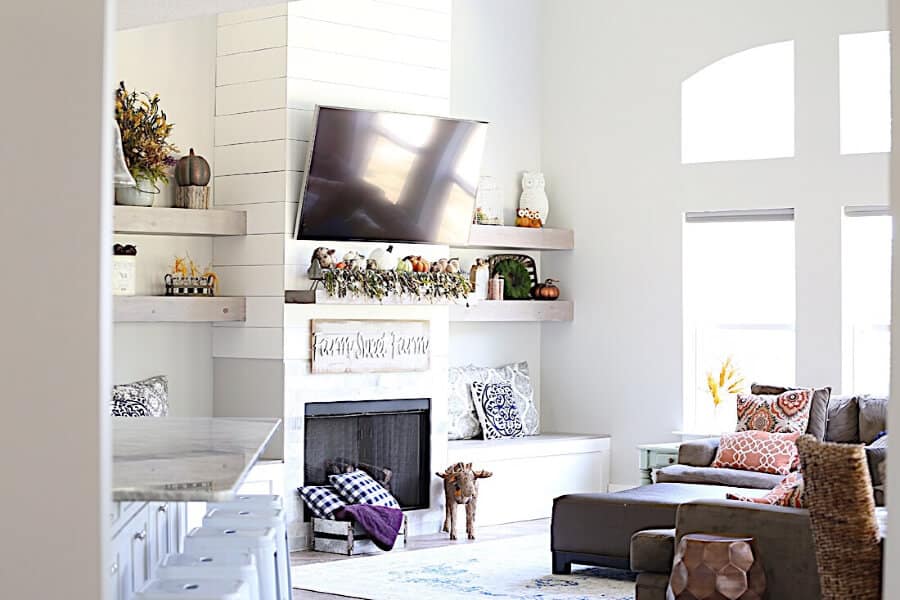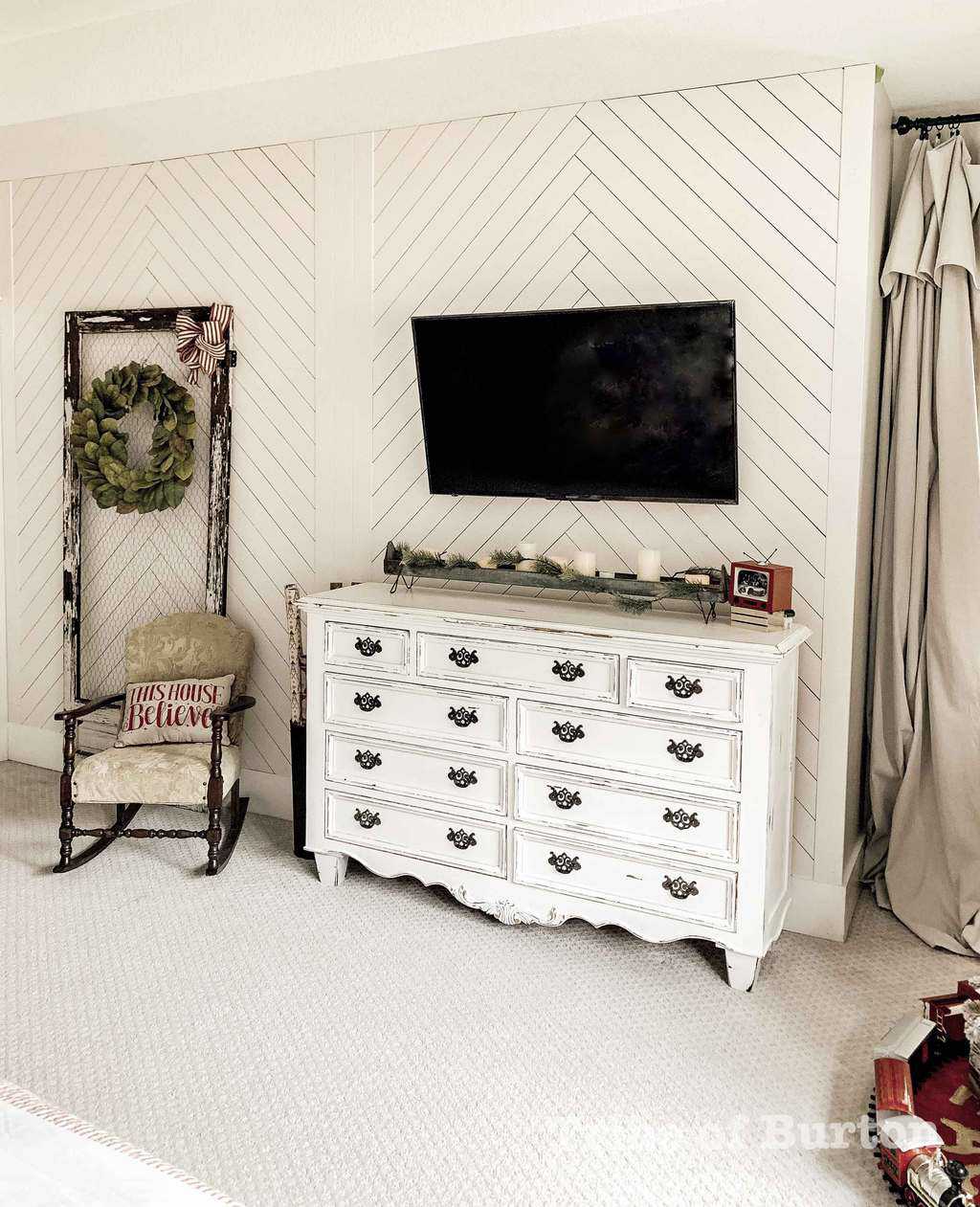 Baskets can be used for storage of blankets in one room and toys in another room.
Wreaths can be used to hang on walls, doors or even used as a centerpiece. Do you have any that you see now that you can move somewhere else?
Old furniture can be given a face lift by painting it. Use this [HERE] chalk paint recipe to make yours at home. It is very budget friendly. I took some old cases with old world maps on them and painted them white. It instantly updated them and instead of donating them I stacked them and used them as storage and as a decor item in my bedroom.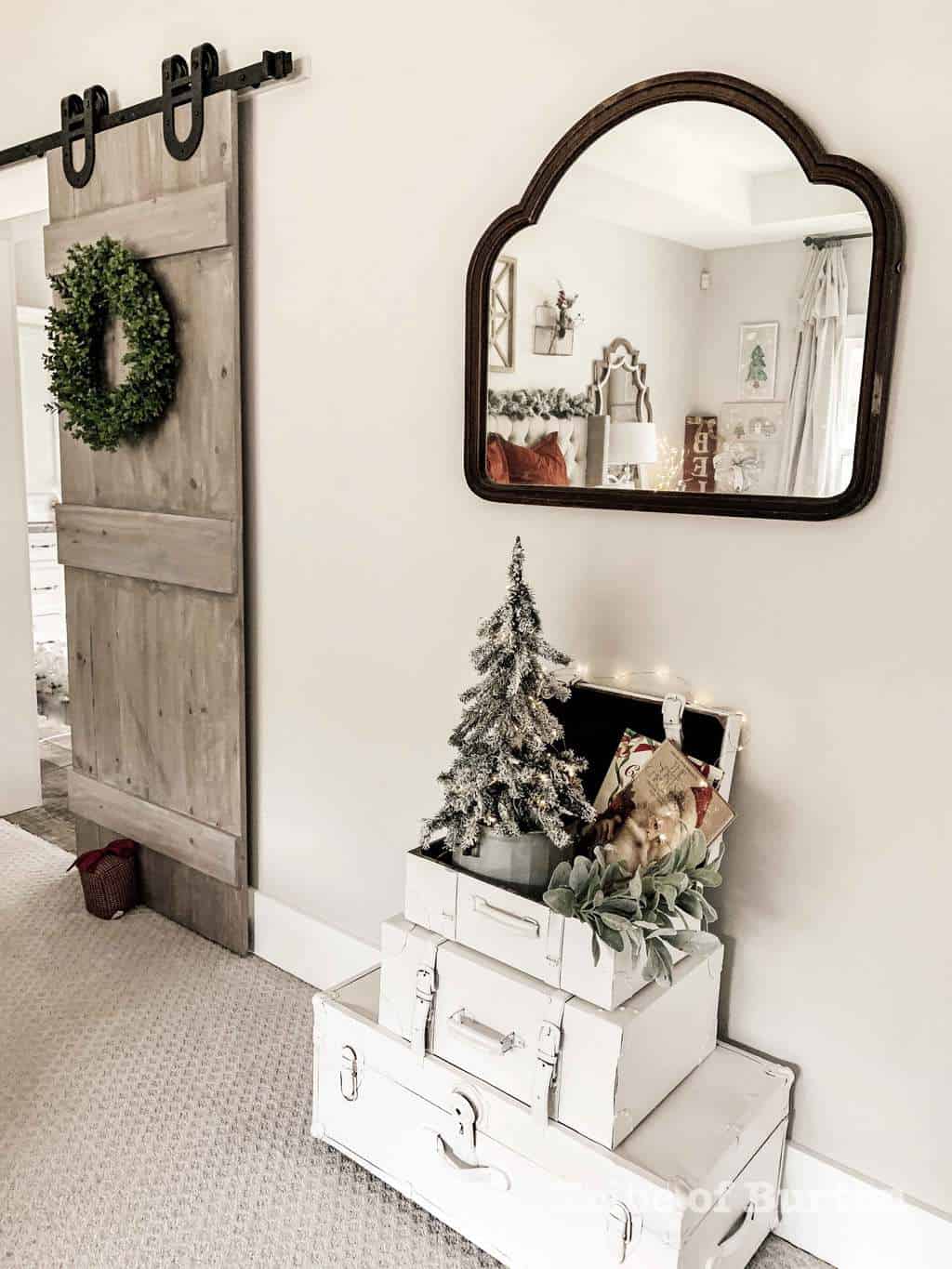 I've found old chairs at garage sales for less than $5. I painted them and then put them around the house. They are great for extra seating but also great for general decor. See them in the picture below. I used a paint sprayer from HomeRight to spray them with the chalk paint formula mentioned above. You can get the sprayer [HERE].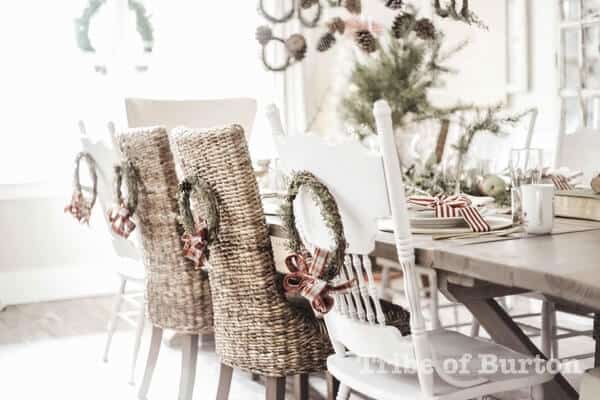 More tips coming soon
Next week I will be back to share some basic decorating tips I've gathered over the years. Until next time let me know if you have any tips you would like to share. I would love to hear about them.