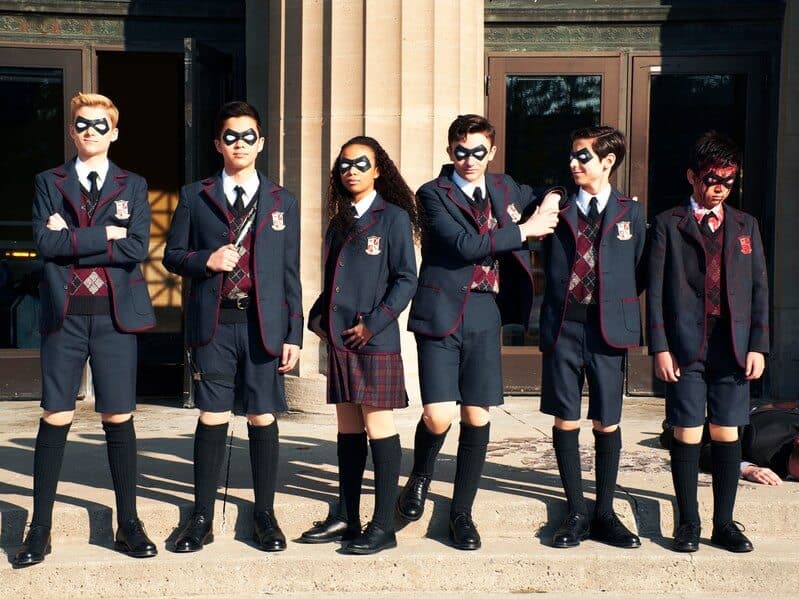 If you're reading this you are probably wondering if The Umbrella Academy is suitable for kids. I think that depends on a lot of things. If your children are mature and they like and understand comics, then The Umbrella Academy may be suitable for them.
We decided to stay in most of the weekend.  The baby (6 months) has had a cough and doesn't really seem to feel well so we didn't want her out and about all weekend long. This was our first weekend without a lot of sports activities so it worked out well.

On Friday, at work, I discovered that Netflix had put out a new series "The Umbrella Academy". I tried to find reviews on it to see if The Umbrella Academy was suitable so the kids could watch with us and didn't find any so I thought after watching it this weekend, I would let other parents know the ins and outs to see if The Umbrella Academy is suitable for their children.



There may be affiliate links in this post. Please read my policy on affiliate links (here) if you want.
Binge Watching
We've never binge watched a series with the kids. Heck it's been a long time since we've binged watched anything.  Our favorites have been series like Friday Night Lights, Lost, and Smallville.

Binge-watching as defined by Wikipedia [HERE] also called binge-viewing or marathon-viewing, is the practice of watching television for a long time span, usually a single television show. In a survey conducted by Netflix in February 2014, 73% of people define binge-watching as "watching between 2-6 episodes or more of the same TV show in one sitting."
Back in December we made the Last Minute FREE Christmas gift [HERE] for our kids. This was the perfect weekend to let them draw a card. We got cozy in our bedroom and the kids made a pallet on the floor and we hunkered down to see what we thought. I watched the first episode at work and knew that other than some mild language, violence and mentions of drug use that it seemed okay.
The Show
Once we started watching the kids didn't want to stop. They had a lot of questions.  More about the story-line. It had us all asking questions about what was coming next. Once the last episode was finished we all agreed we couldn't wait to see the next season.

The show was about a highly dysfunctional family of misfits.   The Umbrella Academy [HERE] is reunited by their father's death. The estranged siblings with extraordinary powers uncover shocking family secrets — and a looming threat to humanity. You can get the comic [HERE] After being reunited when their adopted father dies, they then try to save the world from the Apocalypse. Reading as much as we could on this show it was highly recommended that we actually watch the show Misfits [HERE]. I have not reviewed or read anything about Misfits.
Spoilers ALERT
If you continue reading past this point there may be spoilers. I try not to go into much detail but I know some people reading do not like to read anything about the show or movie they are looking for information on.
Bad Language
There was bad language throughout the film.  We personally don't curse/cuss that much at all. And our children know that it's not acceptable. Bad language does not rank high on our list of things that can't be watched.
Drug use/reference
One of the siblings was addicted to drugs because he saw ghost and it was a way for him to escape that.  We paused and made talking points about why he did this and why we don't do drugs. We made it a learning point.  Once again this is something they will eventually see. Once he stopped taking drugs he learned that the ghost could help him.
Violence
There was violence throughout the entire movie. I would say normal for sci-fi type of movies.

Sex and Nudity
This is our main concern when watching shows.  As mentioned above they can see violence on commercials so not as big a deal to us as other areas. Over the 10 episodes there were only 2 scenes that we had the remote ready to turn off. There was no nudity shown.  One scene had a girl and guy on a couch. She took off her sweater as the scene was fading out she still had on a shirt underneath.  Then another scene a guy/half monkey and girl wake up in a bed. They are fully covered with sheets. There were sexual innuendos throughout the entire movie.  These went over the kids head.
Final Thoughts
I do not think The Umbrella Academy is suitable for young children. Our almost 11 and 10 year old really liked it. They are mature kids and tend to do well with movies and series revolving around sci-fi characters.
We are glad we got to watch it with them and pause and talk about certain things that were bad and why they were bad.  They seemed to like that.
More than anything they seemed to like hanging out as a family. It was a great weekend to just be together. We all agreed we really loved the show and can't wait for the next season to come out. They even asked what the next series could be that we could watch.
Feedback
If you have any suggestions that are great to watch as a family please post in comments below. Once you watch The Umbrella Academy post in comments what you think.

FAQ
When is The Umbrella Academy coming to Netflix? Season 1 was released on February 15th, 2019.
Who wrote The Umbrella Academy? Musician Gerard Way from My Chemical Romance
Will there be a Season two? No word has been released on that as of yet. But Season 1 has taken the internet by storm and with many more comics to go its almost guaranteed that there will be a Season 2 (I know my family hopes there is).
What is The Umbrella Academy rated? It has a TV-14 rating. This means The Umbrella Academy is suitable for ages 14 and up.