Family Vacation in Sandestin
Are you looking for a perfect family vacation spot? One that you don't have to plan every second of it to be perfect? If so then look no further. Come see the hidden gem that my family found in March at Sandestin.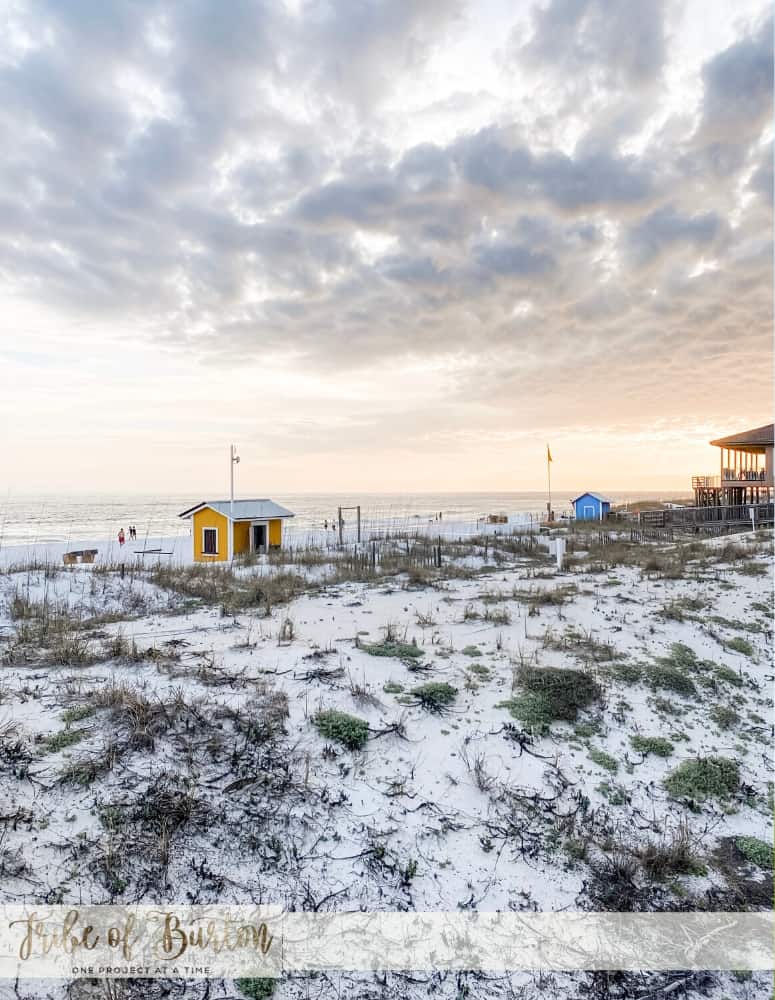 There may be affiliate links in this post. Please read my policy on affiliate links (here) if you want.
If you have read any of my past blog post in the past you know that I had a daughter on April 12, 2017 that was stillborn. After I had her, I lost a lot of blood and had to be taken into surgery. Recovering from a loss of child, blood loss that needed a transfusion and emergency surgery requires additional time than normal. If you haven't read about it you can [HERE].

In 2017, as soon as I was cleared and felt better we took a trip to Destin, Florida. I found a house on VRBO when I was pretty much on bed rest and finally had something to look forward to. We got to Sandestin and arrived at the condo and fell in love. We decided at that time if we came back we would book something in the same building. This was our 5th time in the same area but our favorite trip.

Fast forward to 2020. My husband had planned a birthday trip to see Jon Pardi. It got canceled at the last minute so we decided to go to Sandestin instead. Of course we couldn't go without the kiddos so we found a unit on VRBO and booked it.


Packing for the Beach
The condo rental was in the same building we had stayed in before so we knew we would love the area. We told the kids and got to packing. Since we were staying in a condo verses a hotel we knew we would have to pack extra items (plates, napkins, etc) along with all the normal beach items we normally pack. You can see my recommended beach packing list below. Some things are a must some are just for added fun.
Beach Condo in Sandestin
After talking with the owner of the condo and not a management company, I knew no matter what issues may arise we would be able to contact her for help. Sometimes you don't get that type of customer services when you have a rental.
What we were not expecting was the service and the unit we got. Not only did it comfortably sleep our family of 6, but every minor detail was thought of. From the little gifts left for the kids to the new bath toys for our 1 year old. The kids were amazed by the unit itself but was amazed by the beach closet. The unit actually had a closet (see picture) full of beach toys and carts and chairs -everything that we normally would have packed but didn't have to because Belinda (the owner) had thought of every detail.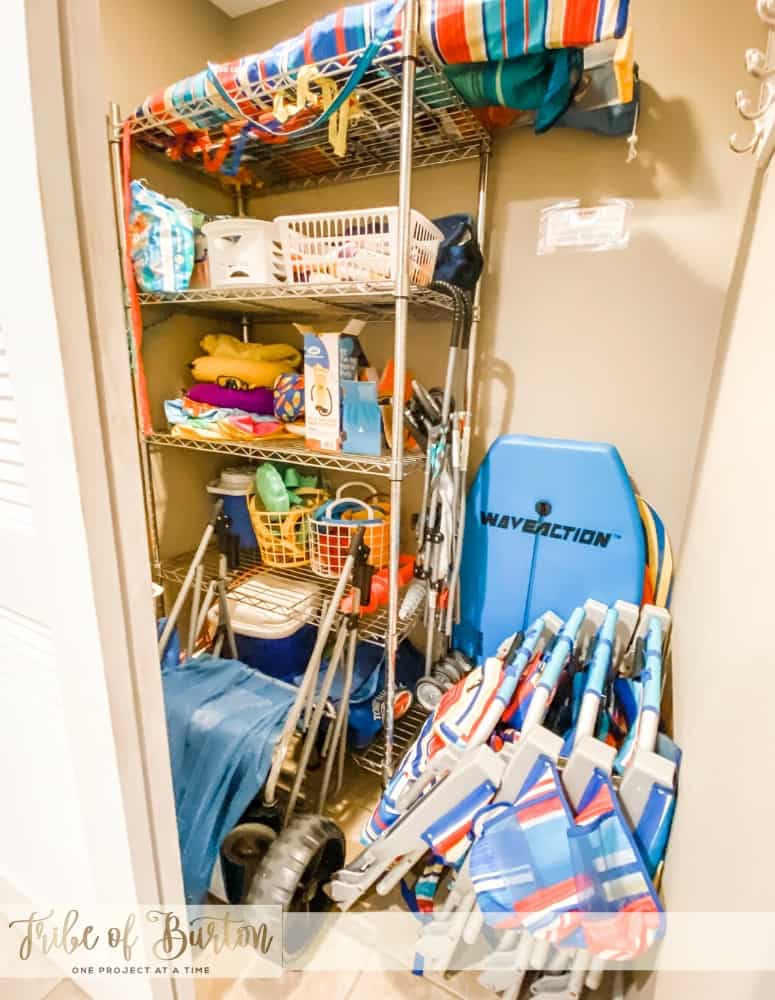 Normally the kids want to get out and explore, but not this time. They were happy being in the unit itself. I was the one that bugged them to go see the beach that first night. We were on the ground floor and a quick walk away to the hot tub and pool area. And then a short walk to the private beach. You read that right. Private beach for the condo guest.
After seeing the beach and the pool, we were off to go on a golf cart ride. Yep, a golf cart. We put the little ones in a car seat and we set off on our adventure. We laughed and had a great time on that golf cart. It was convient having a golf cart we were able to hop on the golf cart and head to the grocery store and to The Village of Baytowne Wharf. Everytime we head to Sandestin we make sure to stop by The Village of Baytowne Wharf. We love it.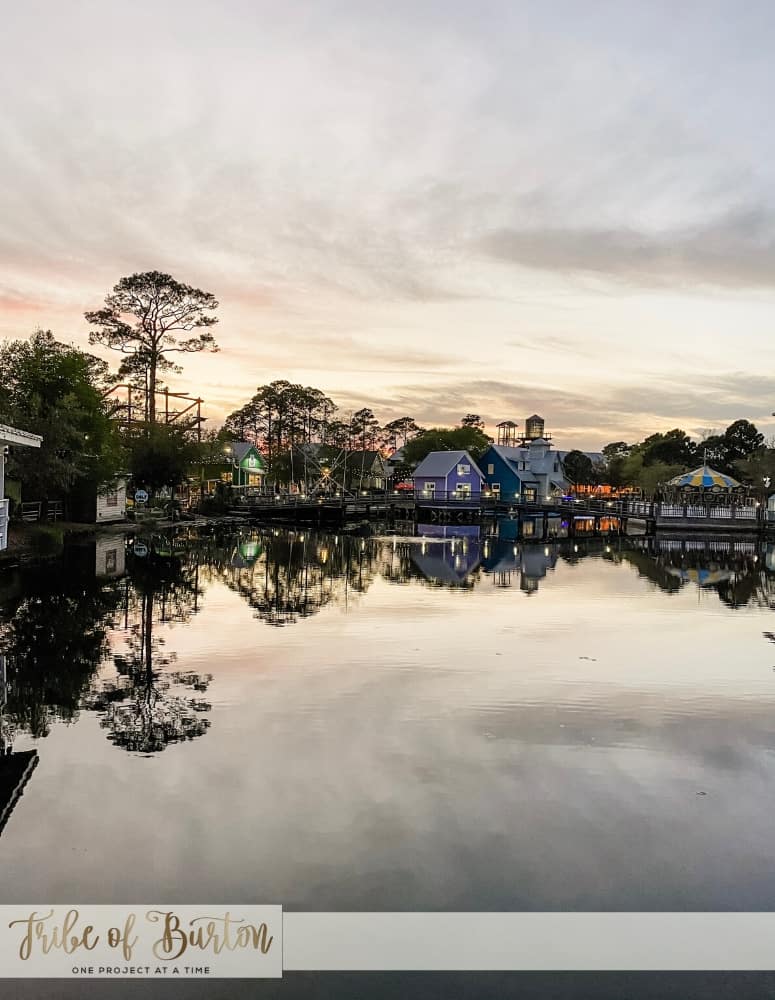 We eventually had to head back to the condo for the little one's bedtime, and the big kids weren't even upset about it. That never happens.
The next morning we woke up early to head to the beach. The beach is something we never get tired of. We live very close to Pensacola Beach, but it's always nice to go to Destin. After a full day in the sun we decided to head back to take naps before we headed out to dinner and dessert.
The kids wanted to go back to Baytowne Wharf so we hopped on the golf cart and went. After dinner we went to look at the boats docked there and had dessert. We watched the sunset and had a nice relaxing time as a family of 6.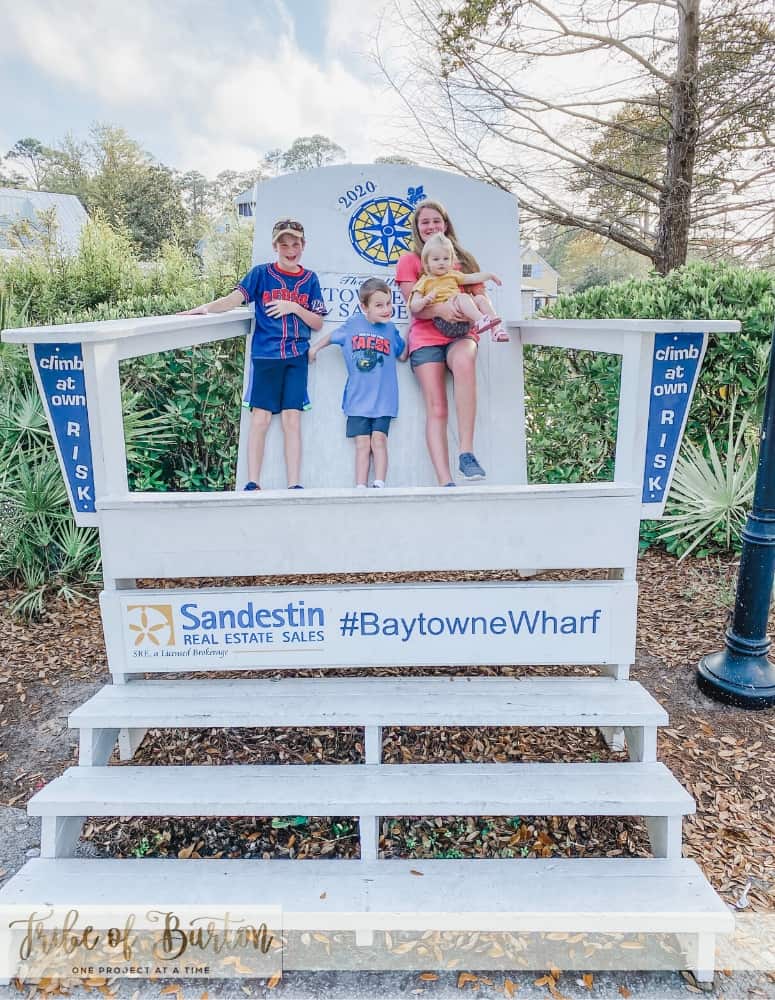 The trip ended up having to be canceled early because of what's going on right now (I refuse to name it). But we made a promise to the kids we would be back and we promised we wouldn't go to any other condo. We would be back to visit Belinda's condo.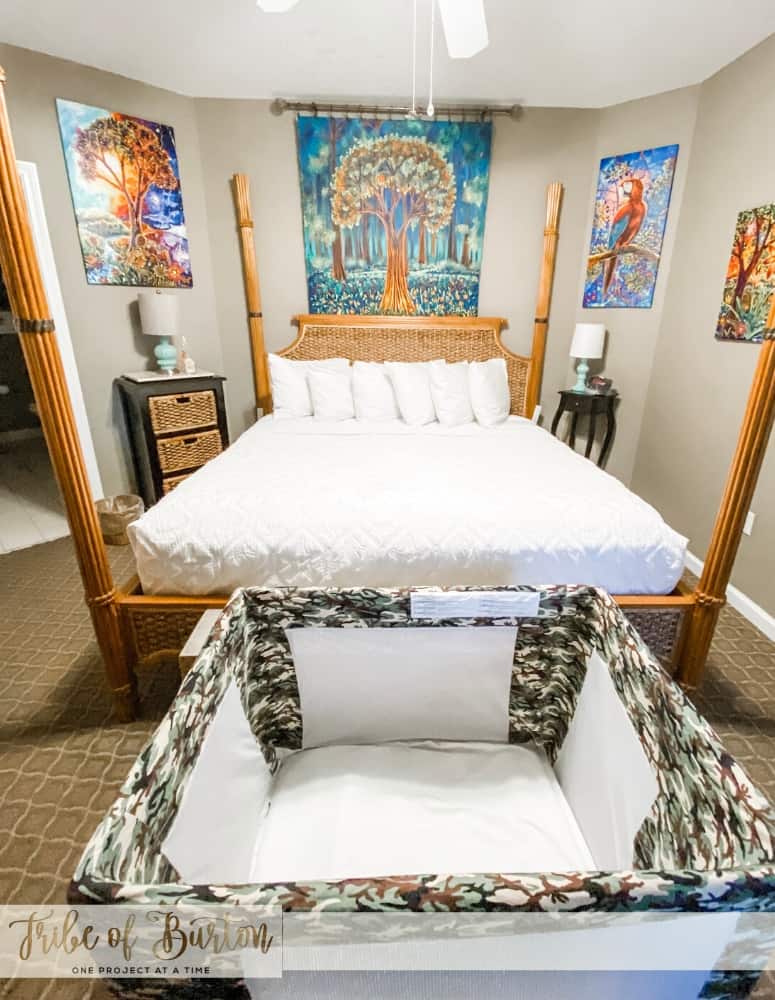 Tips for visiting the Beach
If you don't have access to beach toys or floats at home and can get them before you go – do! You never know when they will be sold out at the stores you are going to or how high the prices will be.
If you don't have a pool or beach when you return home think about donating those items to a family on the beach.
Baby powder! On our powder beaches – it gets the sand off you and most things you have with you
Apply sunscreen more often than you think
These towels [here] help you dry off without having to continue getting your beach towel wet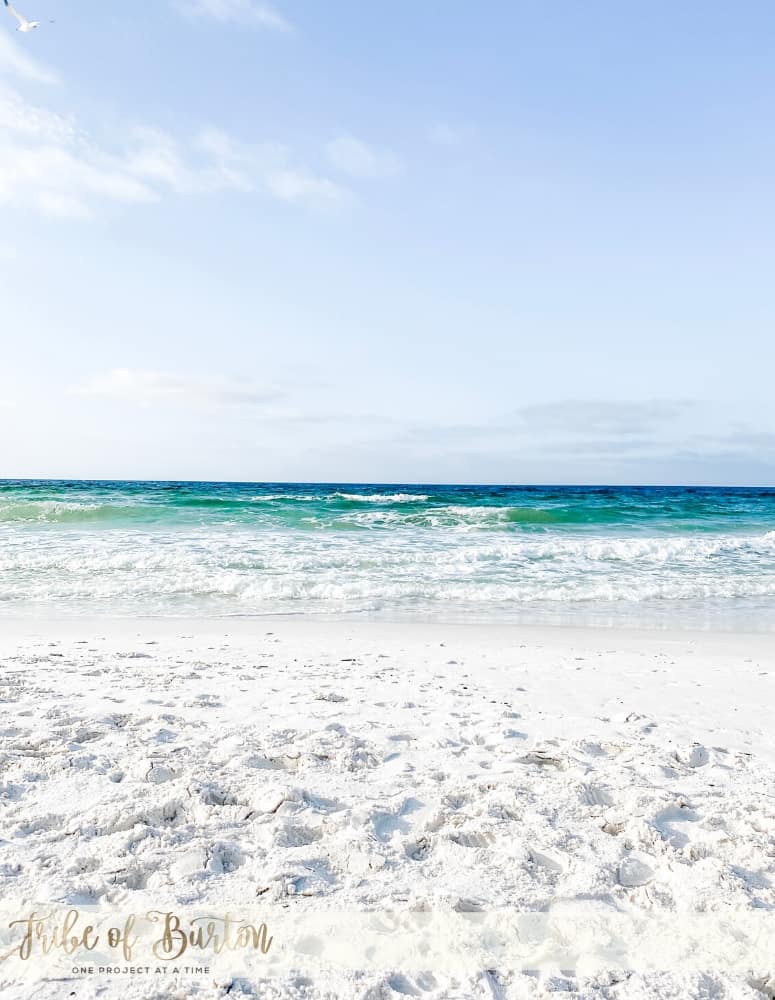 planning your next beach vacation
It's never too early to start planning your next trip to the beach. I know there are beaches all around the world but I dare you to say that the Florida's gulf coast doesn't have some of the prettiest beaches in the world. I hope you have had fun reading about our perfect stay at Sandestin.
If you are planning a trip to the beach and have any quesitons please feel free to let me know. I can't wait to hear about your trip to Sandestin.
If you would like to take a look at Belinda's condo's please click [HERE]. Be sure to check out the "Contact Us" page to get her information so you can book your next vacation with them.
If you want to read about our first time, as a family, going to a Drive in Movie theater click [HERE]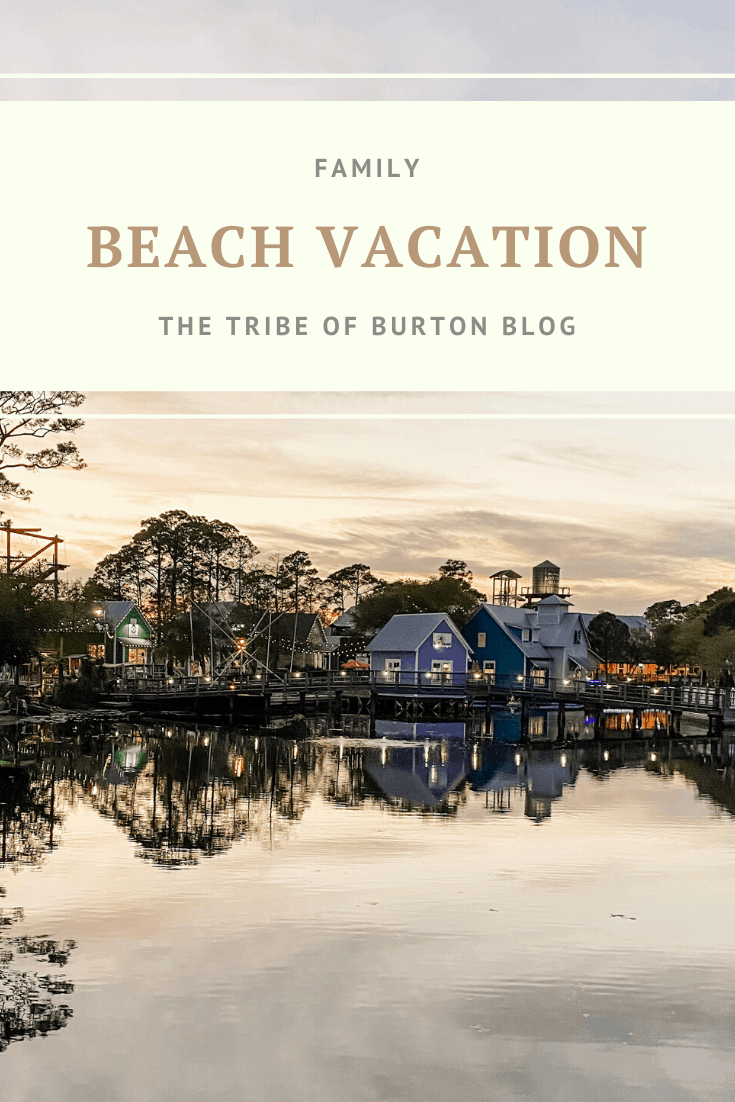 When we stayed home we checked out the Drive in Movie Theater [HERE].