Who loves a good charcuterie board? I know we do in our family, but this Valentine's day we thought we would do something different. Something that the kids could help put together. We made a Valentine's Day Dessert Charcuterie Board and it was amazing.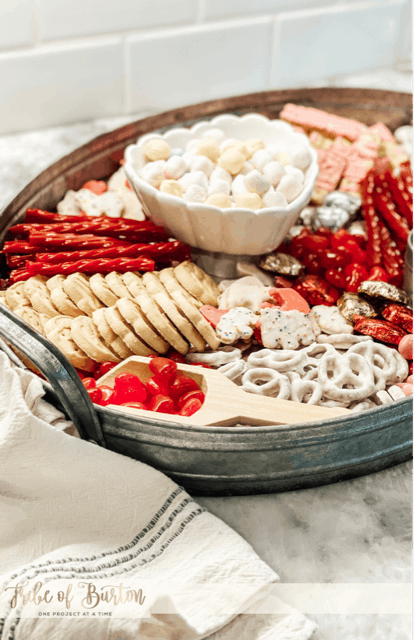 There may be affiliate links in this post. Please read my policy on affiliate links (here) if you want.
I have gathered some favorite bloggers (yours and mine!) to bring you lots of Valentine's Day Inspiration. With all these amazing ideas you are bound to walk away with tons of ideas!
Valentine's day charcuterie board
You may want to know what a Charcuterie Board [HERE] is before we go much further. A Charcuterie board is normally a tray with bite-sized meat and cheese served as an appetizer or as a meal.
A Dessert Charcuterie board is a tray with sweets and desserts! Fun, right?
First things first, you need to buy some sweets that everyone will eat. I wanted to make sure we got things that each one of us would like. My two boys have sensory issues when it comes to food, so we also had to be strategic in the way we placed food. TIP: don't store mint sweets with other treats, or the mint flavor will mingle with other sweets. Ask me how I know.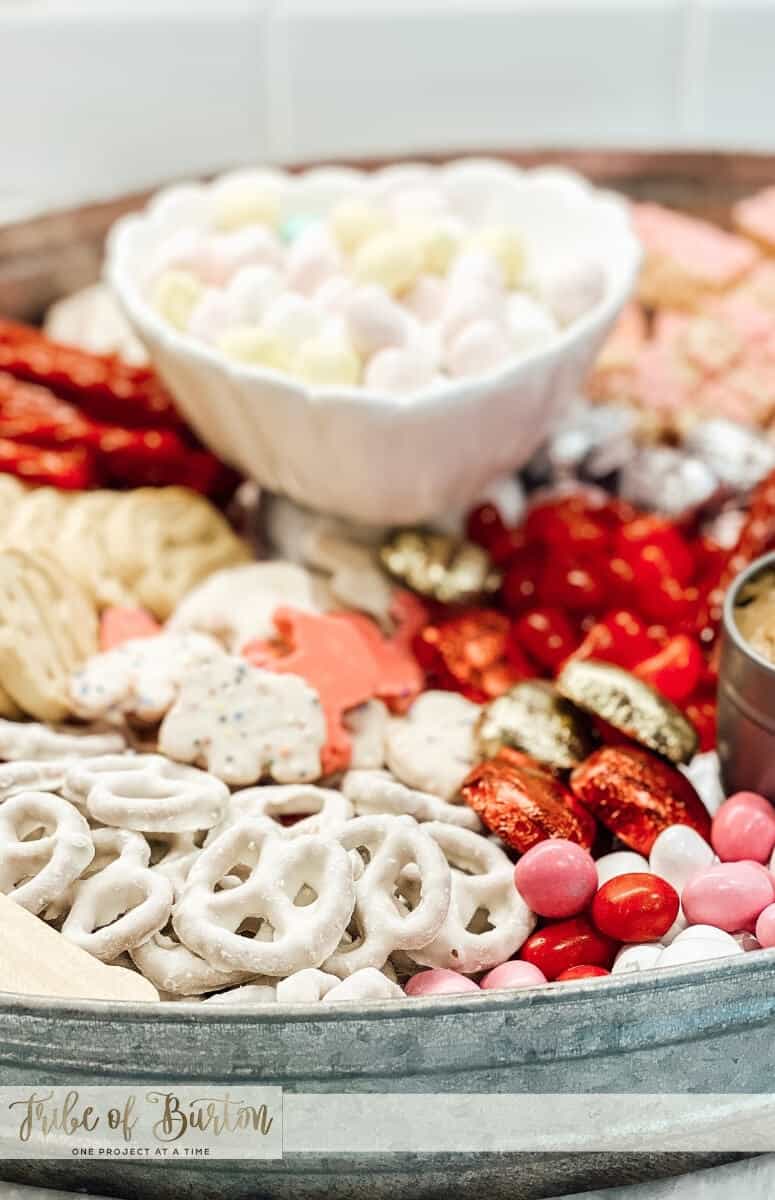 Valentine's day dessert board tips
Pair like items together
Keep cold items cold until needed
Get creative – Chocolate dippers [HERE]
Create Dippers (Peanut Butter, Chocolate, Honey, Jelly)
Fill any gaps with tiny desserts or candy [HERE]
Bowls to separate food [HERE]
Scoops [HERE]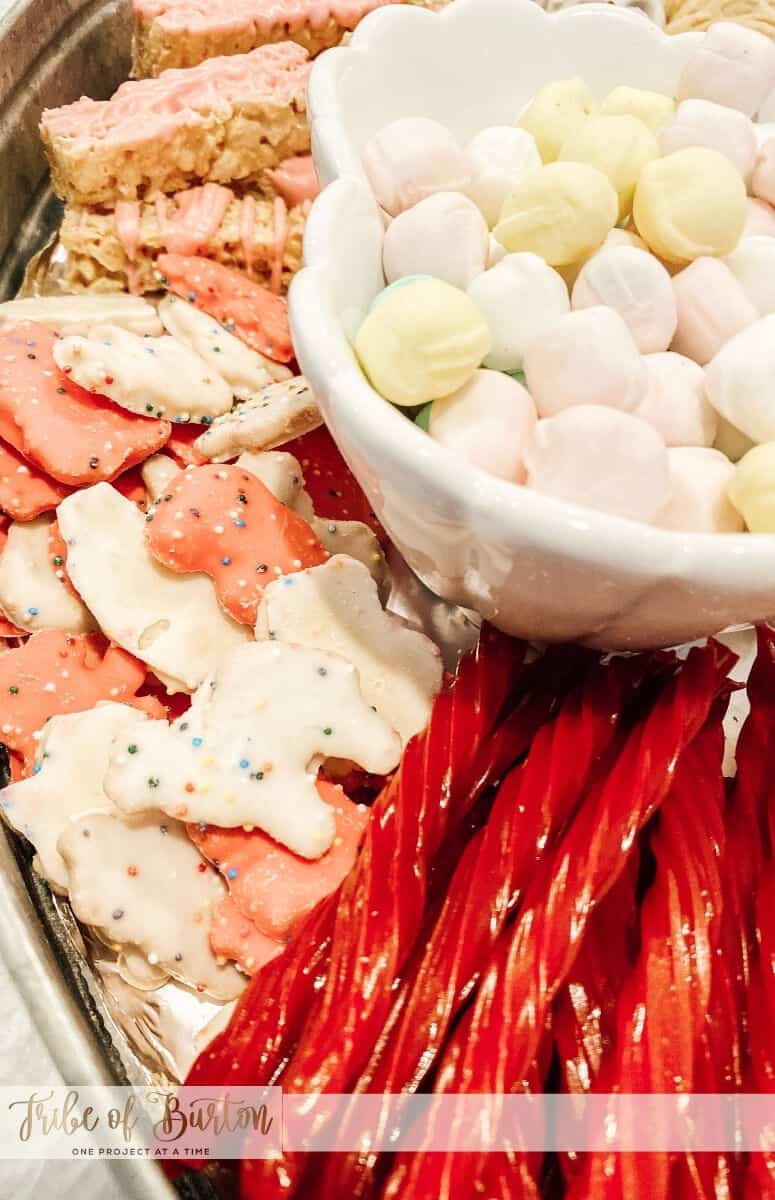 INSTRUCTIONS
Line a pan for an easy cleanup
Add favorite sweet treats
Watch the treats disappear (once family knows what you are doing)
Treat Ideas
Chocolate Covered Pretzels
Twizzlers
Hershey Kisses
Reeses Peanut Butter Cups
Cookies
Peanut Butter
Mints
Peanuts
Grapes
Strawberries
Bite-Sized Brownies
Bite-Sized Waffles
Jelly Beans
Rice Crispy Treats
Fruit
Graham Crackers
Marshmallows
Pretzels
QUESTIONS THAT PEOPLE ASK
What desserts do you recommend?
Anything sweet!
Did you use fruit in your dessert charcuterie board?
I wanted our board to stay out a few days and fruit would be required to put in the refrigerator so we stuck with sweets that could be left out and just covered up with wrap.
Take a look at these Southern Biscuits if you are interested in something more savory.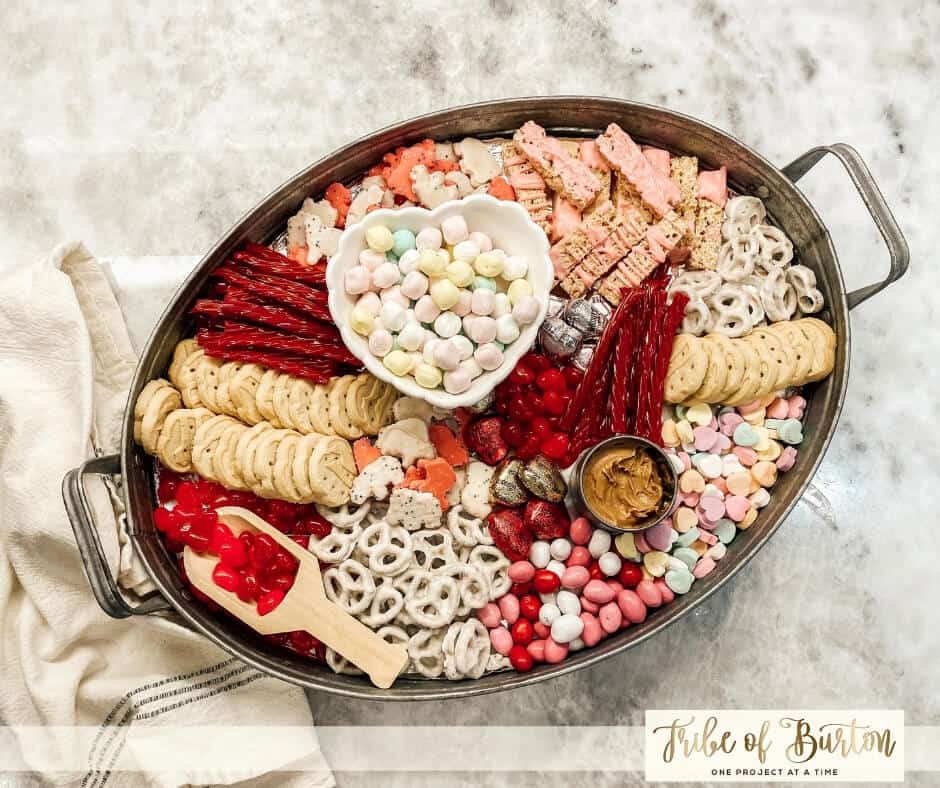 Valentine's Blog Tour
Next on the tour is my friend, Rebecca from Zucchini Sisters . I love the way she made heart-shaped brownie bites Be sure to check it out along with all the other amazing bloggers below!

Kippi at Home // Feet Under My Table // Tribe of Burton // Zucchini Sisters
♥ ♥ ♥ ♥ ♥ ♥ ♥ ♥ ♥ ♥ ♥ ♥

Olivia O'Hern // Decorate and More with Tip // The House on Silverado // My Family Thyme
♥ ♥ ♥ ♥ ♥ ♥ ♥ ♥ ♥ ♥ ♥ ♥

Chas' Crazy Creations // From Farmhouse to Florida // Simple Nature Decor