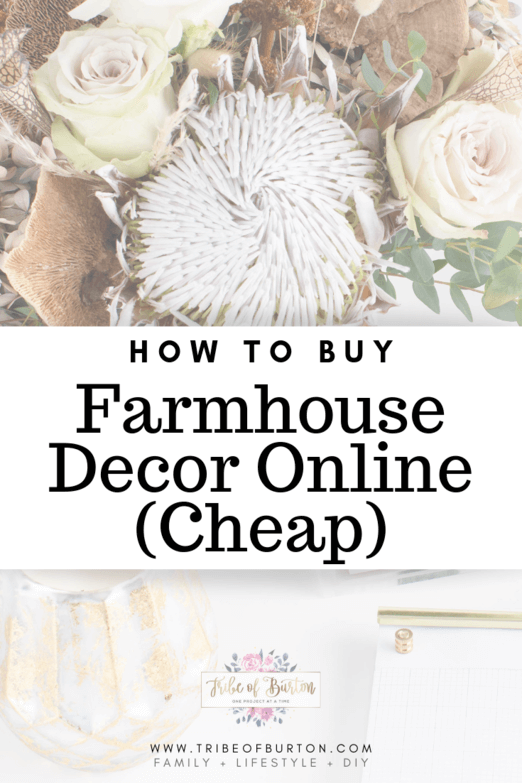 When I started decorating my house, I knew I wanted to use Farmhouse Decor, but more than anything, I knew I wanted to buy Cheap Farmhouse Decor!
There may be affiliate links in this post. Please read my policy on affiliate links (here) if you want.
At the time I didn't know where to even begin shopping for farmhouse decor. I knew a few local places carried it and honestly they have great things. However, I was lacking time. I didn't have time to go out exploring and wasting endless amounts of time for buying trip that may or may not produce results.

After searching google I discovered Decorsteals, Amazon, H & M Home, and Dollar Tree. Each on their own has amazing qualities. (Over a series of blog post I will go over why I love each one).

Eventually the most asked question I get is where I buy my decor. Most things I find online now.
Cheap Farmhouse Decor Online
You have to be creative when shopping for things for your house or office. Something as simple as a Dollar Tree vase can be painted and styled completely different in less than 30 minutes. I use chalk paint [HERE] and paint so many things from Dollar Tree.
I've put together a quick reference guide to buying discounted Farmhouse Decor on Amazon. My favorite place to get discounted general Farmhouse decor is on Amazon.
Take a look at all these fun items. I use the Bread box to actually store bread (imagine). I have the dish soap dispenser and use it for lotion. You will find cotton all over my house. Just ask my husband. My favorite is buying Silk Peonies or even Roses from Amazon. A friend posted about them a year ago and I couldn't believe they were fake.
Anyone ever seen a dinner bell inside a house? Some days I feel like I need one and may just get one. HA! Drop cloths are great for many things. I used them for curtains, slip covers, and they are great to have around if you like to paint things.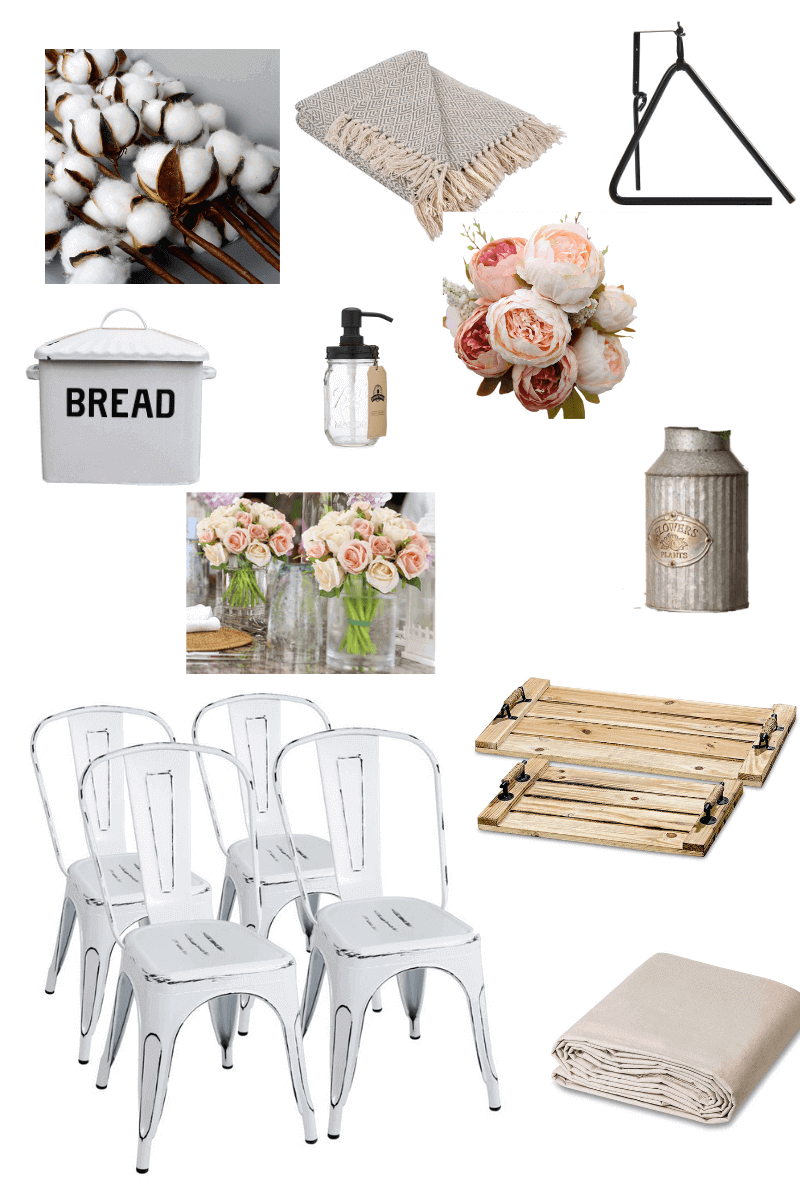 More tips

If you buy your pieces that can be used during different seasons and in different rooms then you can find unique items at local thrift and antique stores. And if you want to see suggestions on how I move things from room to room take a look at this post [HERE].

Another tip when buying items is getting items with purpose. I have baskets and trays around my house that I love, but they have items hidden in them. I buy a lot of mugs and cups that I can use if we want. PLEASE check all labels to see how things should be cleaned. One time instead of dusting glass and ceramic items I decided it would be quicker to put them in a dishwasher on the quick cycle. That was brilliant for most of the display items until I got some glass out of the dishwasher and it had melted the label off.

I would suggest the same thing for any fabric. If you buy items that can be washed, make sure you read the instructions first. Some things are required to be hand washed or spot treated.
After looking at my guide above, I hope you were able to find some Cheap Farmhouse Decor on Amazon.

If after reading this, you have more suggestions I would love to see them.