Do you love flowers? If so, you are in the right spot. I LOVE flowers. BUT yes, that's a big but… I can't have fresh flowers in the house for more than a day, or our allergies start going crazy. Sneeze. Cough. Pass a box of Kleenex.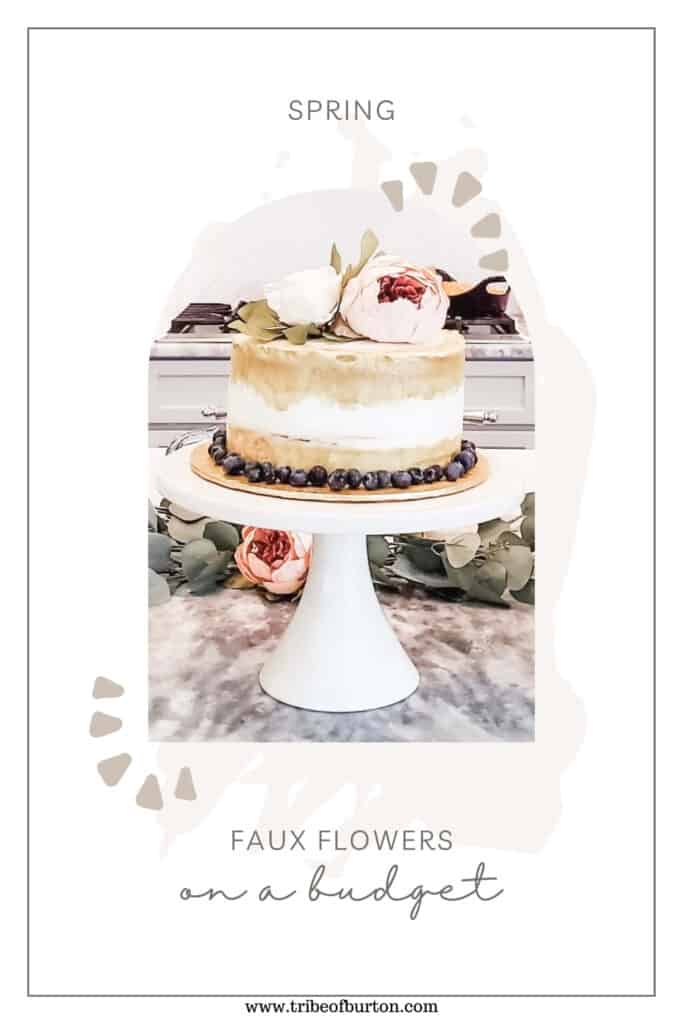 After you finish reading about how I style my favorite faux Spring Flowers, keep scrolling for the Spring Blog Hop!
Spring Flowers on a budget
I've never been a fresh flower kind of girl. I'm not sure if it's always been my allergies, or sometimes I think I could spend my money on something better. Even though I wasn't a fresh flower kind of girl…I am a "love the look of flowers all around the house within moderation" type of girl.
I'm here to tell you that you can get spring flowers all over your house on a BUDGET!
I searched all over the internet and the stores, and every time I go back to the two same spring flowers and greenery. Every. Single. Time. They are so versatile, and you can use them in all sorts of ways.
buy faux spring flowers
You may be asking yourself – where do I buy these fabulous spring flowers? Well, I know you have all been dying to know, so here are some links to get started.
Peony Silk Flowers Violet [HERE]
Peony Silk Flowers Light Pink [HERE]
Eucalyptus [HERE]
Eucalyptus [HERE] + Head into your local Walmart. They have beautiful long stems of Eucalyptus.

DIFFERENT USES FOR SPRING FLOWERS ON A BUDGet
Take a look at my different pictures and see. I've used them as a flower arrangement (duh) on my daughter's first birthday cake, centerpiece, garland, party decor, wreaths, bookshelves, chicken feeder (I originally typed that out as chicken finger – I think I'm getting hungry), and so on!
I think you can definitely use your imagination to make these flowers work in all situations.
1. Pull flowers off the stem and use them on a cake or food items (make sure you're safe though, we put a little piece of wax paper down, then put the flower on top).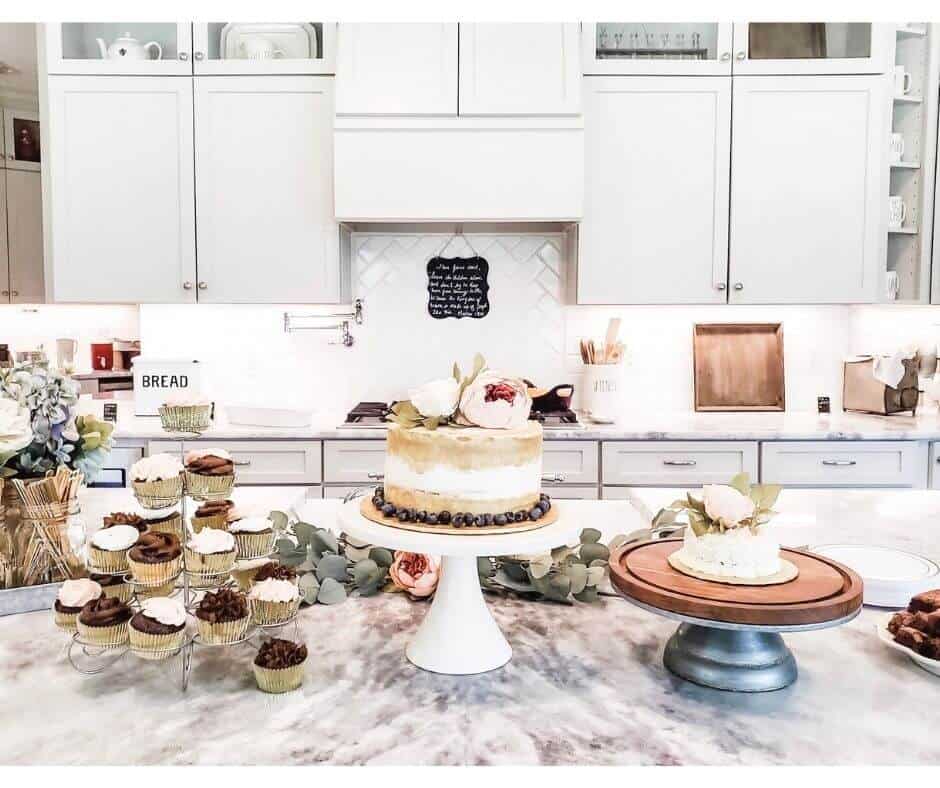 2. Use as a flower arrangement or centerpiece.
3. Don't use real flowers. I'm joking! Use them if you can.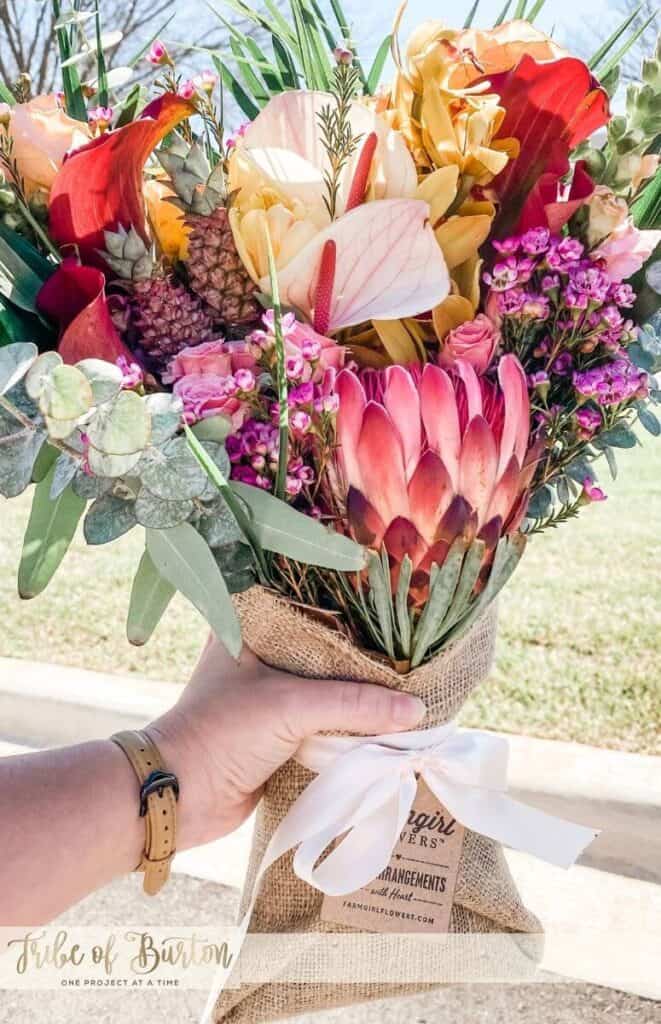 4. Pull them off the stems and put in a chicken feeder.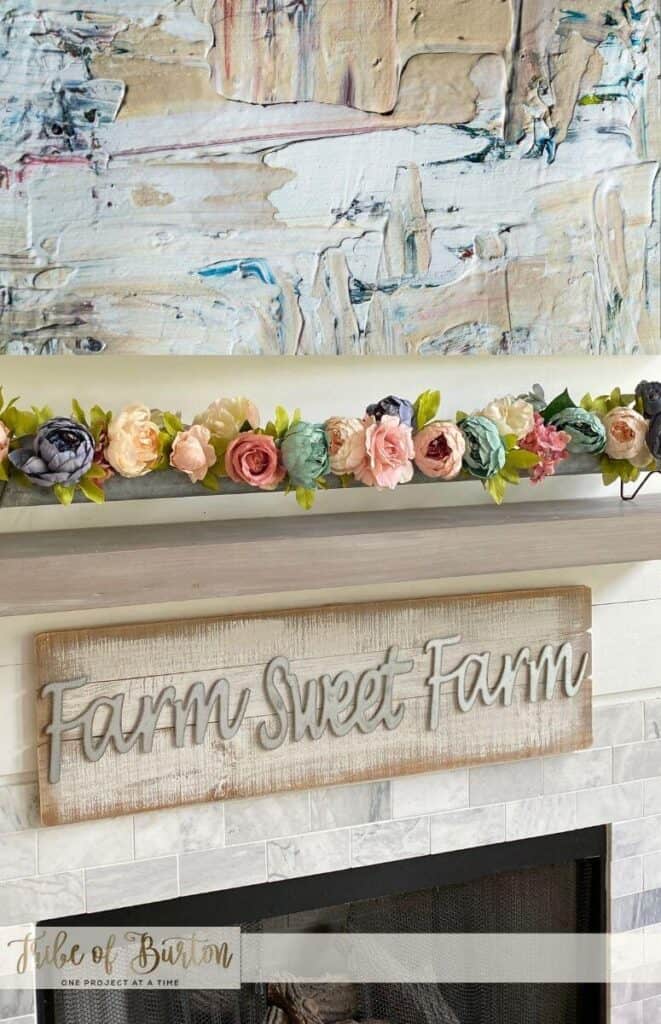 5. Use them as a garland or hanging flowers. Place in a container throughout the year as "stored" decor year-round.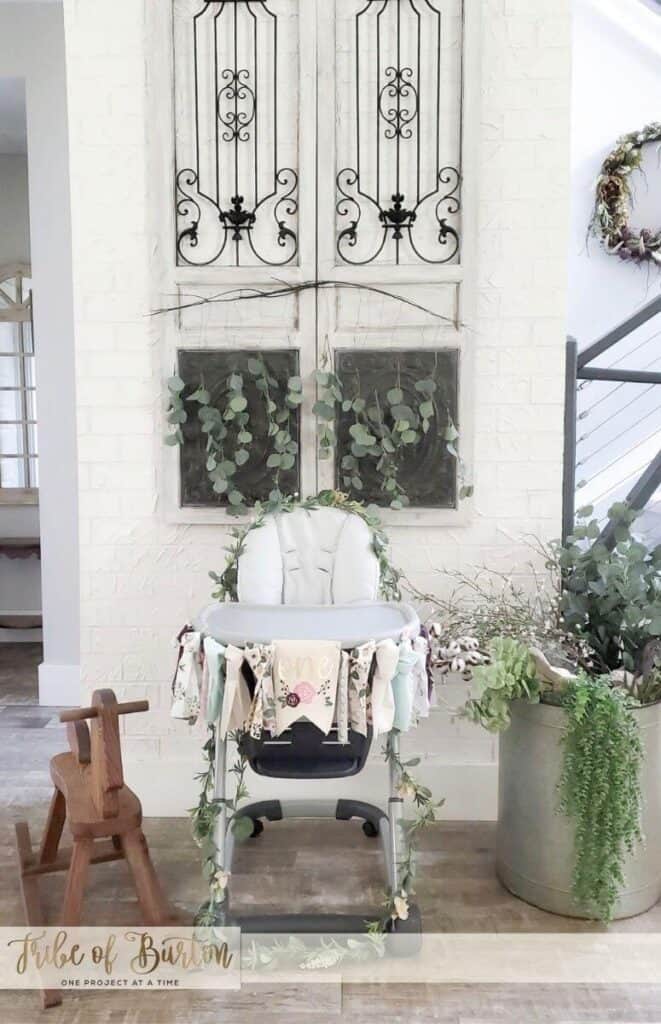 6. Lay the spring flowers loosely on a table. Use eucalyptus in a container.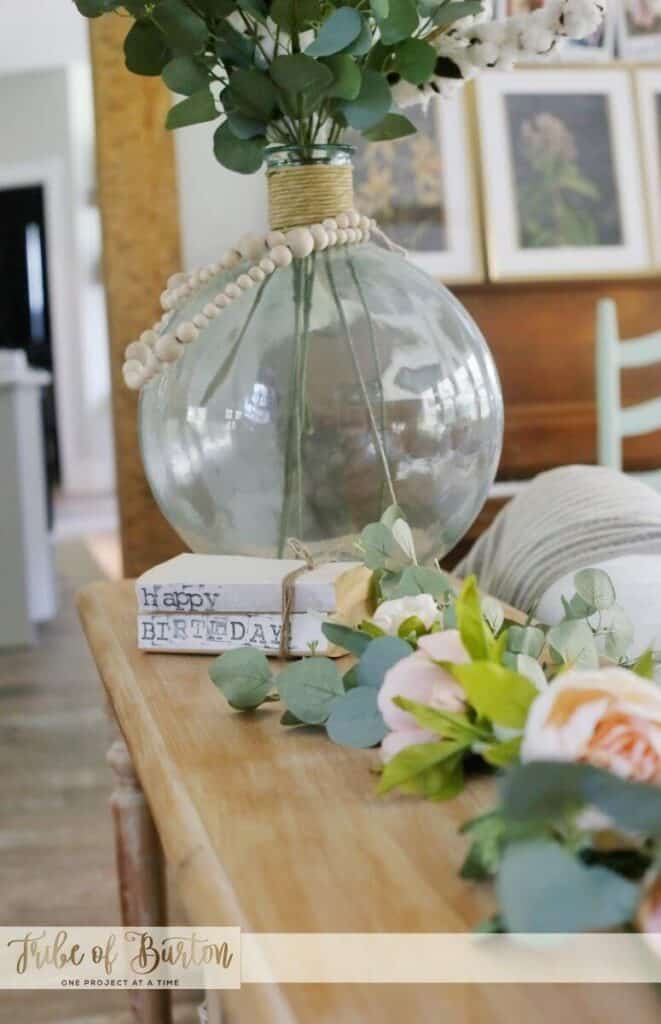 Frequently Asked Questions
Do they last?
Yes!! I've had some of the florals for years! Budget-friendly, I would say YES!
Do they smell?
No. I would air them out, but all of mine have been fine.
Do they look fake?
Not really. The stems on the Peonies sometimes look fake, but I tend to hide those.
Check out how I used Faux Greenery for this wreath [HERE]
spring blog hop
I have gathered a few of my favorite bloggers to bring you a lot MORE springtime inspiration. I'm sure you are going to love them too! Next on the tour is the amazing Kippi from Kippi at Home where you will always find inspiration no matter the season!

Kippi at Home // Olivia O'Hern // The House on Silverado // From Farmhouse to Florida
🌸 🌸 🌸 🌸 🌸 🌸

My Family Thyme // Salmonde // Simple Nature Decor // Feet Under My Table
🌸 🌸 🌸 🌸 🌸 🌸

Chas' Crazy Creations // Zucchini Sisters // Tribe of Burton