Thanksgiving Table Decorations – How to Create an Unusual Fall Tablescape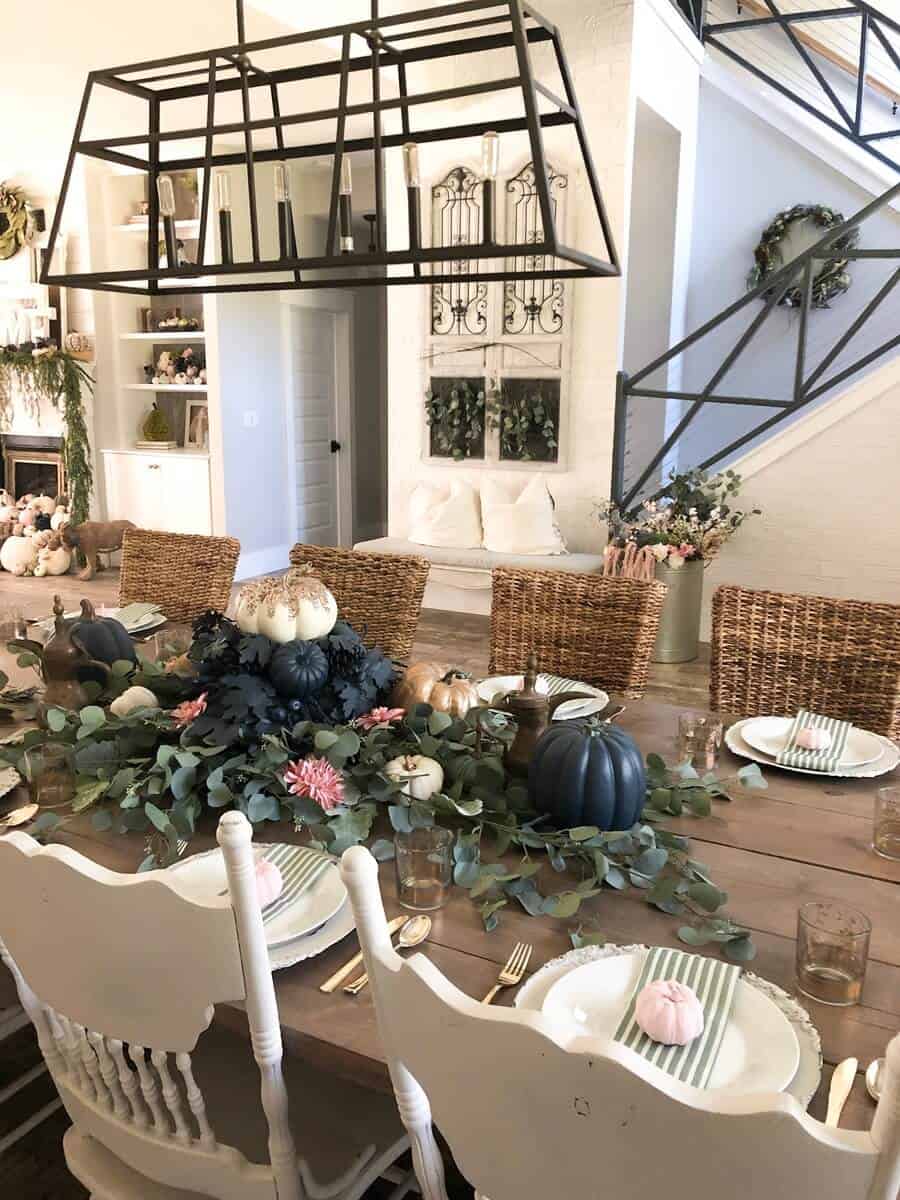 Hi everyone! Today I get to show our unique Fall Tablescape. AKA as a Thanksgiving Table Decorations. It's been a while. 6 months to be exact. I got burnt out on a lot of things this last year. The saying to do all things in moderation applies to blogging as well. We always live and learn. Or I know I do. I hope today I'm going to be able to show you a few Thanksgiving Table Ideas.
There may be affiliate links in this post. Please read my policy on affiliate links [here] if you want.
Simple fall tablescape
We are less than a month away now to the first day of Fall. Normally I bring out Fall Decor in August. I decorate so much that it takes me a while. And putting out my fall Decor before school starts allow me to focus on the school stuff. You know exactly what I'm talking about.
This year I decided I wanted to do non-traditional fall colors in the dining room. So I did! My husband thought I was crazy when I showed him my ideas of this Fall Tablescape (I'm not the best illustrator, ha!). Instead of buying all new stuff I used this spray paint [HERE] and [HERE] and painted a few of the pumpkins like these [HERE] .
For the place settings I was about to use my go to chargers and white plates [HERE]. I didn't want to go spend a lot of money on napkins and silverware so I used paper napkins [HERE] and plastic silverware [HERE] for place setting.
If you take a look around your house you will be surprised at all the items you can use. When I buy things I try to get things I can use year round. If I can't use it Year round then I try to use it for at least 2 seasons.
Take a look below. And let me know if you do traditional fall colors or think outside the box? Have a great day.
Elegant Thanksgiving Tablescapes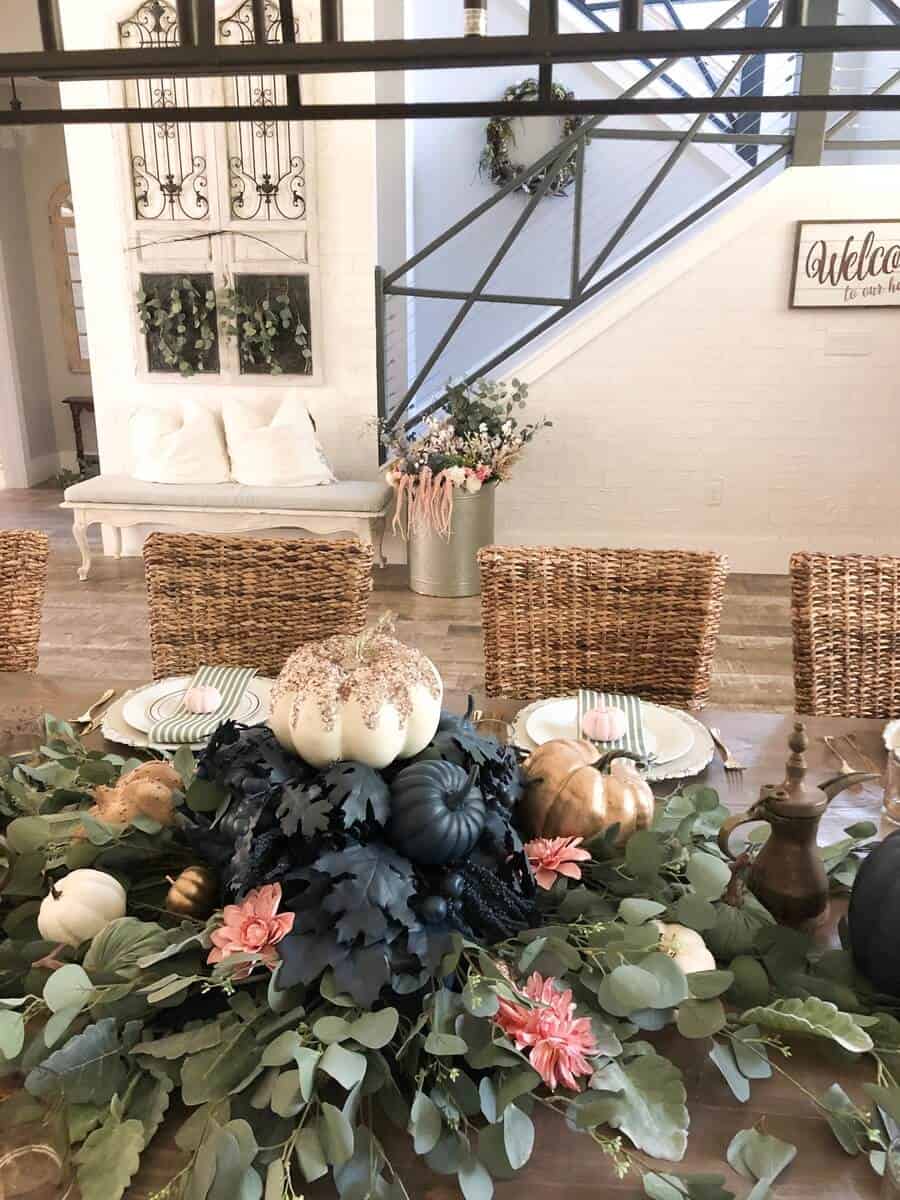 I use a galvanized Christmas tin can to store extra flower arrangements year long. If you want an a faux brick wall check out my post [HERE]. If you notice on the picture the pumpkins are raised off the table. I added some books then threw over an old pair of blue jeans that had holes in them to cover the books. This book/jean trick cost me absolutely nothing.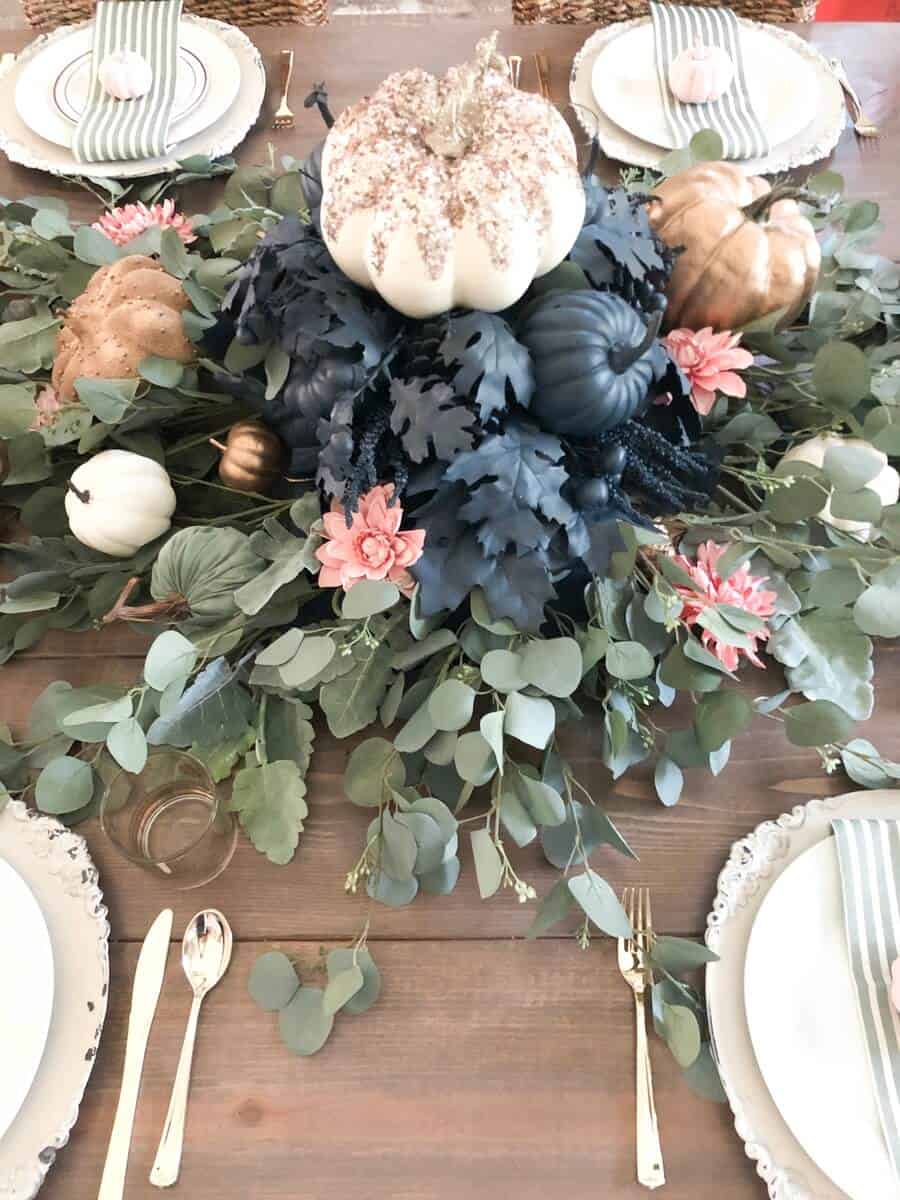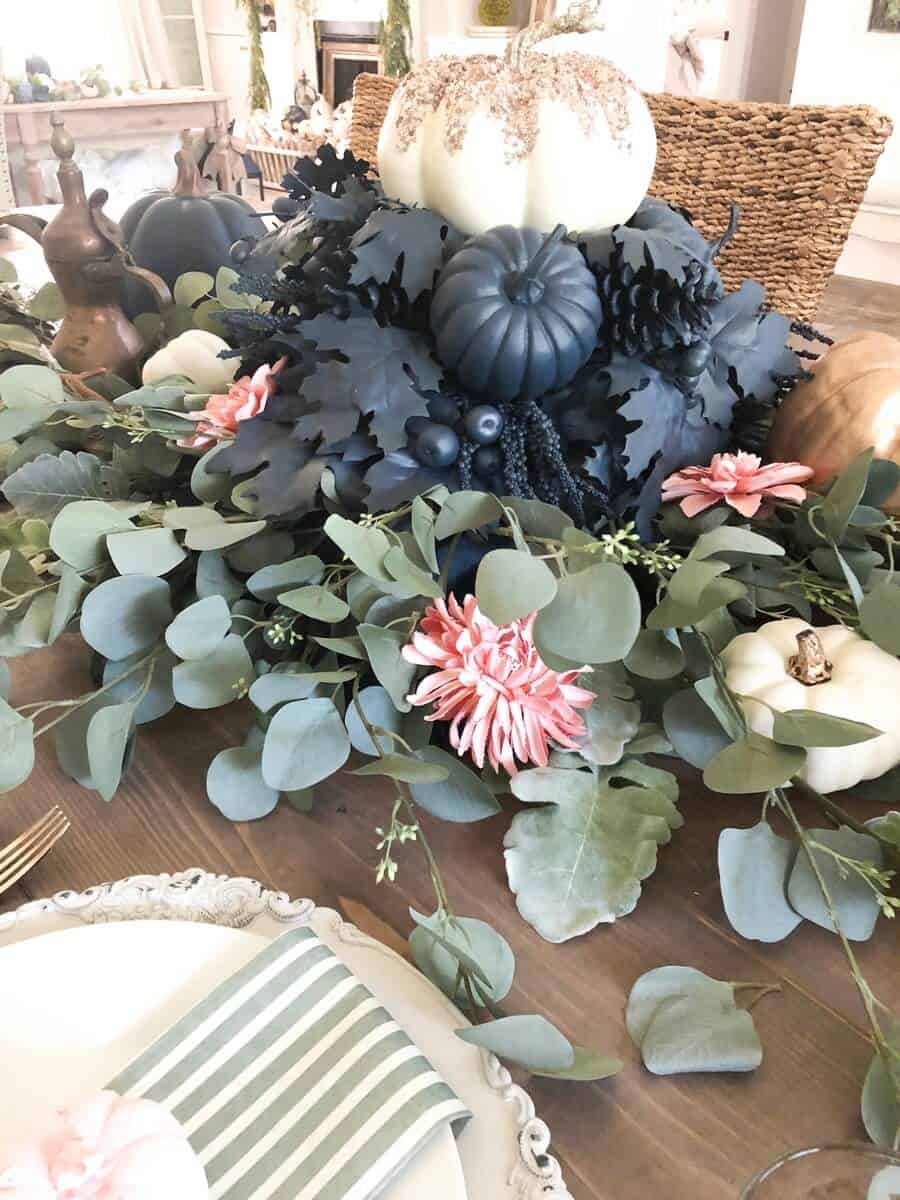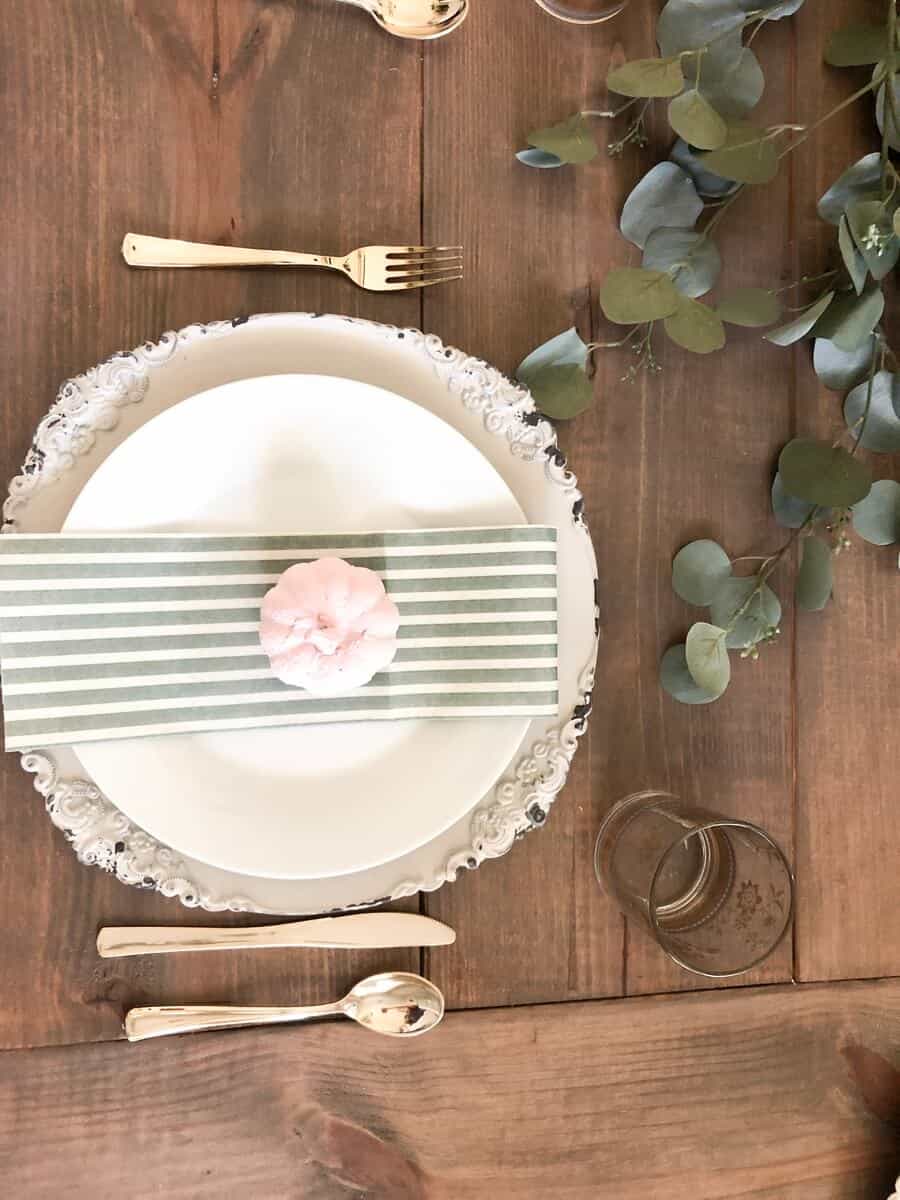 The Paper goods and the plastic silverware was left overs from my daughter's birthday party. They were FREE. The napkins were a few pennies on the clearance rack at Target.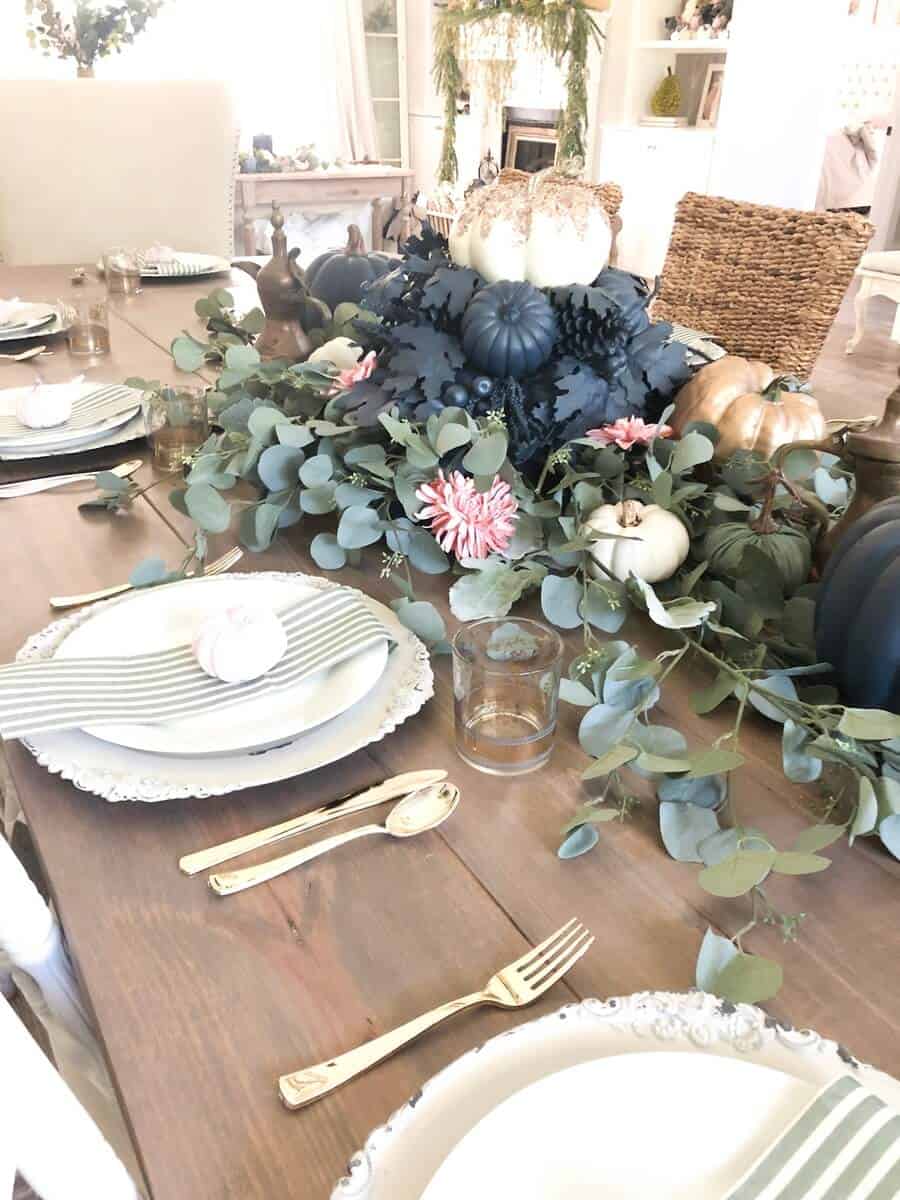 Please let me know what colors you use for FALL decor. Also let me know in the comments below if you have a traditional Thanksgiving dinner or do you do something else? Look around your house and see are there any everyday items that you can now use as your Thanksgiving Table Decorations?
Take a look at my Fall Home Tour from a few years back [HERE].
If you want to take a look at what I would get if I did a traditional Fall Tablescape click [HERE]. Do you like it? Show me what you would do!!