Last year I really focused on the gift of time verses items. One thing that has made my heart happy is to see how the Scandinavians decorate for Christmas. Don't know what I'm talking about? Think minimalist + neutral colors + Christmas Flare and you have a Scandinavian Christmas.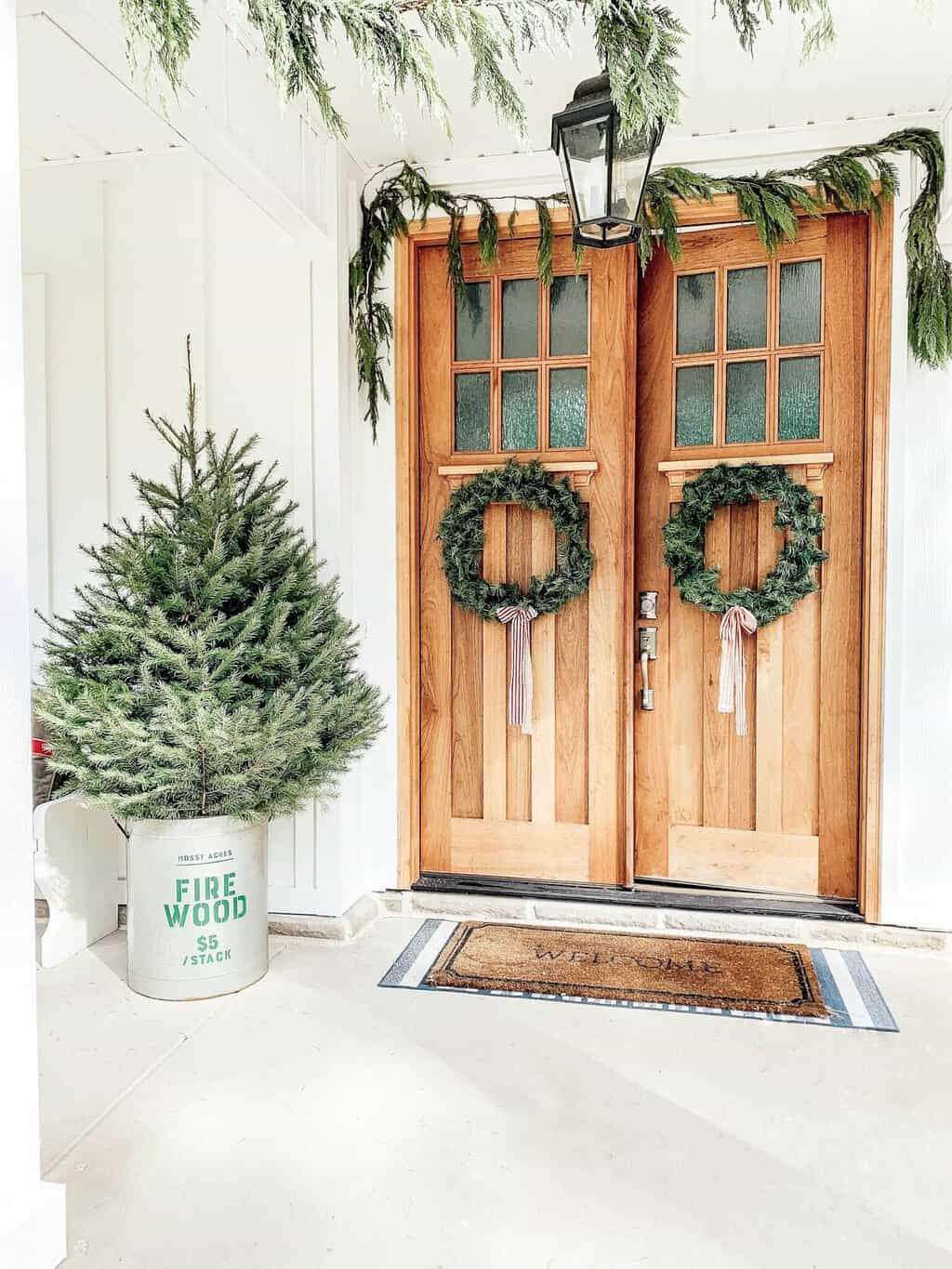 I'm hoping once you get done reading this Scandinavian Christmas Wreath tutorial today you will want to have a little bit of Scandinavian Christmas in your life as well.
What do you think about making a wreath for under $11? Is that something that would appeal to you? If you want simple and easy this is definitely going to be the post you keep reading. Come learn how you can transform a $8 wreath or one from Goodwill into a very live looking Scandinavian wreath.
There may be affiliate links in this post. Please read my policy on affiliate links (here) if you want.
Opposite of Scandinavian Christmas Decor
A few months back I told my husband I wasn't going to buy any Christmas Decor this year. 18 years of always buying a little bit here and there he was very surprised. I was determined to stick to it. At first it was hard. Every time I saw something cute, I wanted to buy it. Slowly, I started to admire things from afar. I would ask myself "Do I NEED that ___ (fill in the blank) Christmas item" 99.9% of the time the answer was NO.
You see I don't need Christmas Decor. Yes, I love it. And having it around brings me joy. But I don't have to have it. With the decision of not buying anymore Christmas Decor I also made the decision to purge of Christmas Decor. I think this shocked my husband more than anything.
If I wanted the Scandinavian Christmas Decor look in my house, I had to be willing to get rid of some of the other Christmas Decor.
Game plan:
Sell Christmas Decor
Donate Christmas Decor
Purge Christmas Decor
It felt good to get rid of decor items that were taking up space and not being used. It also felt good to give back to some people that couldn't afford Christmas decor.
The items I decided to keep were my Christmas Wreaths I made last year. After searching the internet for something similar it hit me. These were sort of like a Scandinavian Christmas Wreath.
SCANDINAVIAN Christmas Wreath
A Scandinavian Christmas Wreath needs to be simple and calming. When you look at the wreath it should make you think of simpler times.
SUPPLIES
Wreath – The one I used [HERE]
Spray Paint – Perfect Wreath Color [HERE]
Did you just read that supply list? Is that not the most minimalist list you have ever read? I could go to the store and get those 3 items without ever once having to write it down (I make list for everything).
Wreath: Any wreath will do. Even the INEXPENSIVE ones from Walmart. The ones that look FAKE. Yep, those. They will do. After we get done with them they will look amazing and people will ask you where you got your wreaths from.
Spray Paint: I've tested out 7 different spray paints to find the right color for you. I have one favorite [HERE] then a close second. Originally I liked the look of the dark green [HERE] but once I started looking at simple fresh Christmas garland the spray paint I originally liked was too dark. I went back to the drawing board and then finally found the perfect green spray paint.
Ribbon: I made my own from old material. But I would suggest buying a simple ribbon with straight clean lines or solid color ribbon. Green, White, Black, Brown or even a hint of Red like what I used. Go [HERE] to see how I made my ribbon.
TIPS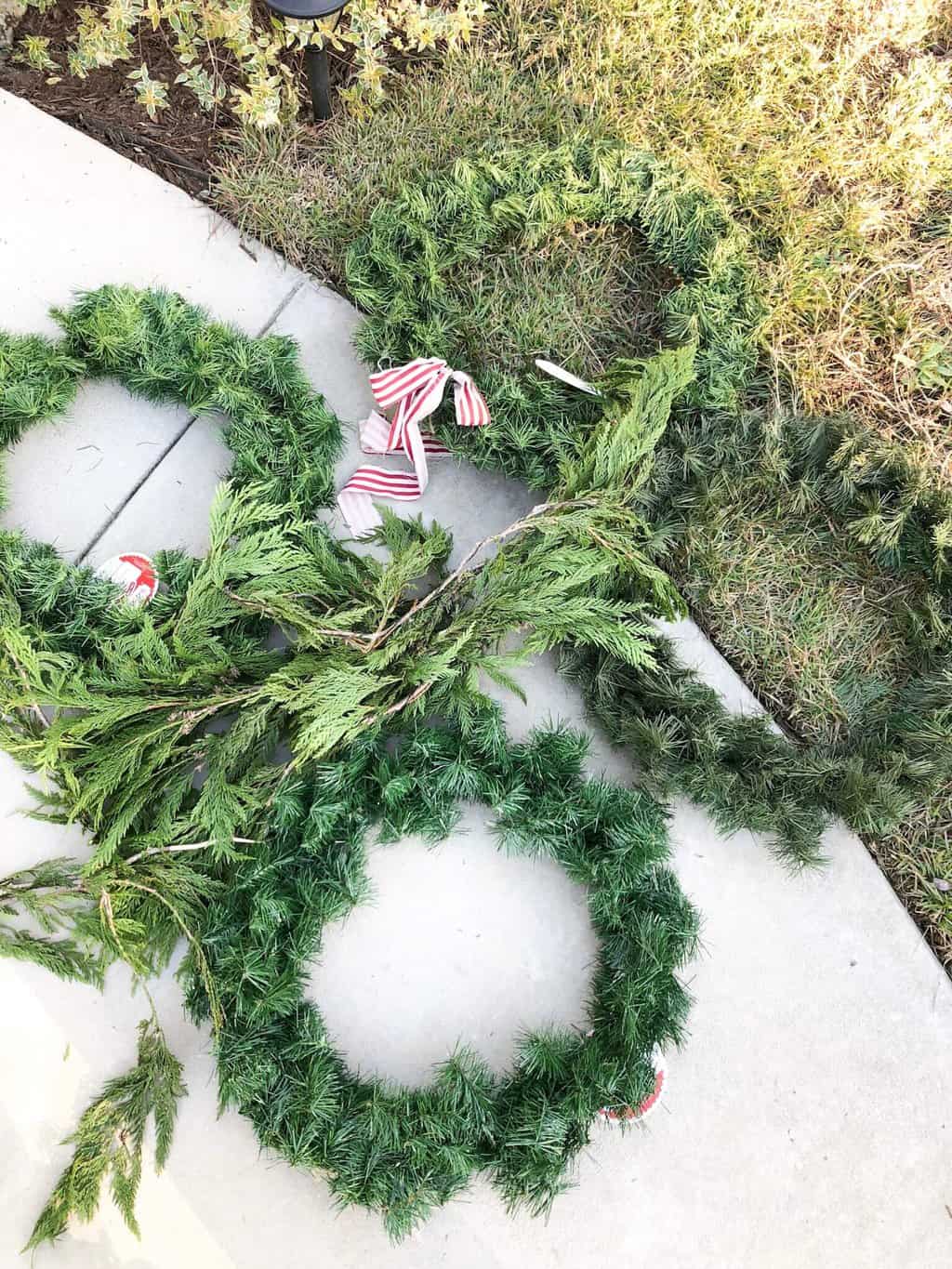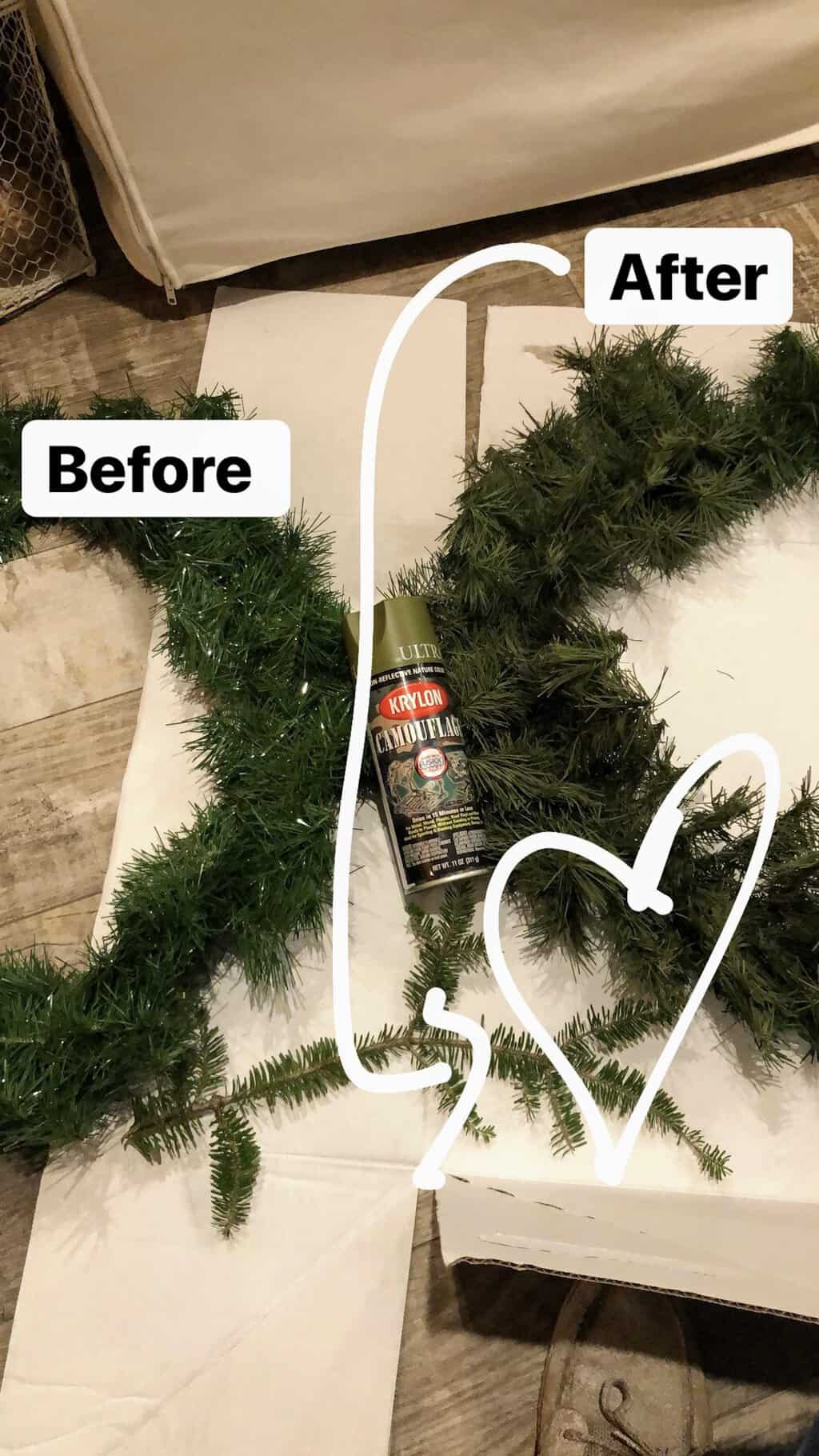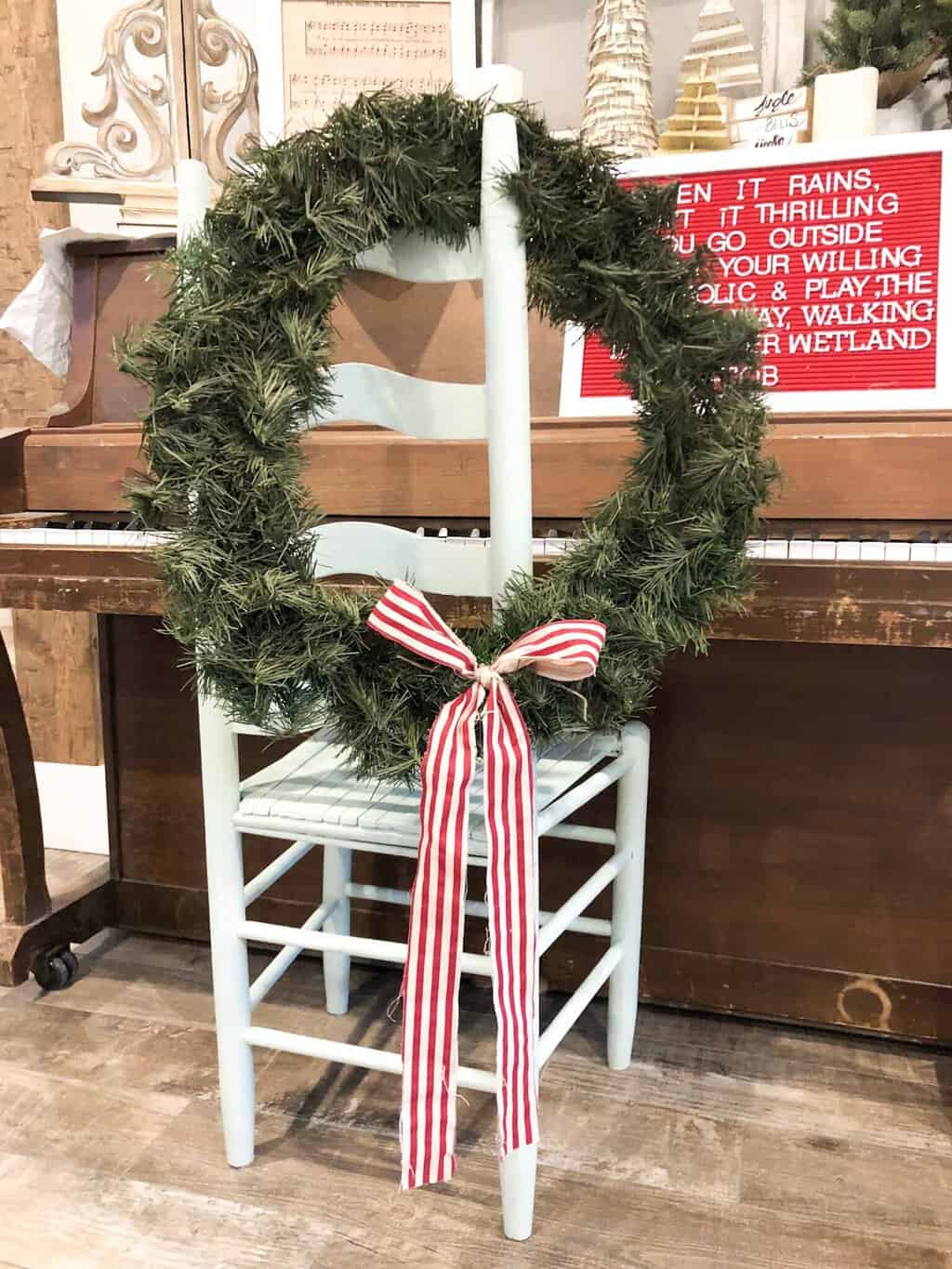 Instructions for making a simple christmas wreath
Paint your wreaths outside
Let wreaths dry
Fluff wreath
For longer flowing bows cut around 3 feet in length
Tie a simple bow
That is it. That's all you need to do to make a Scandinavian Christmas Wreath.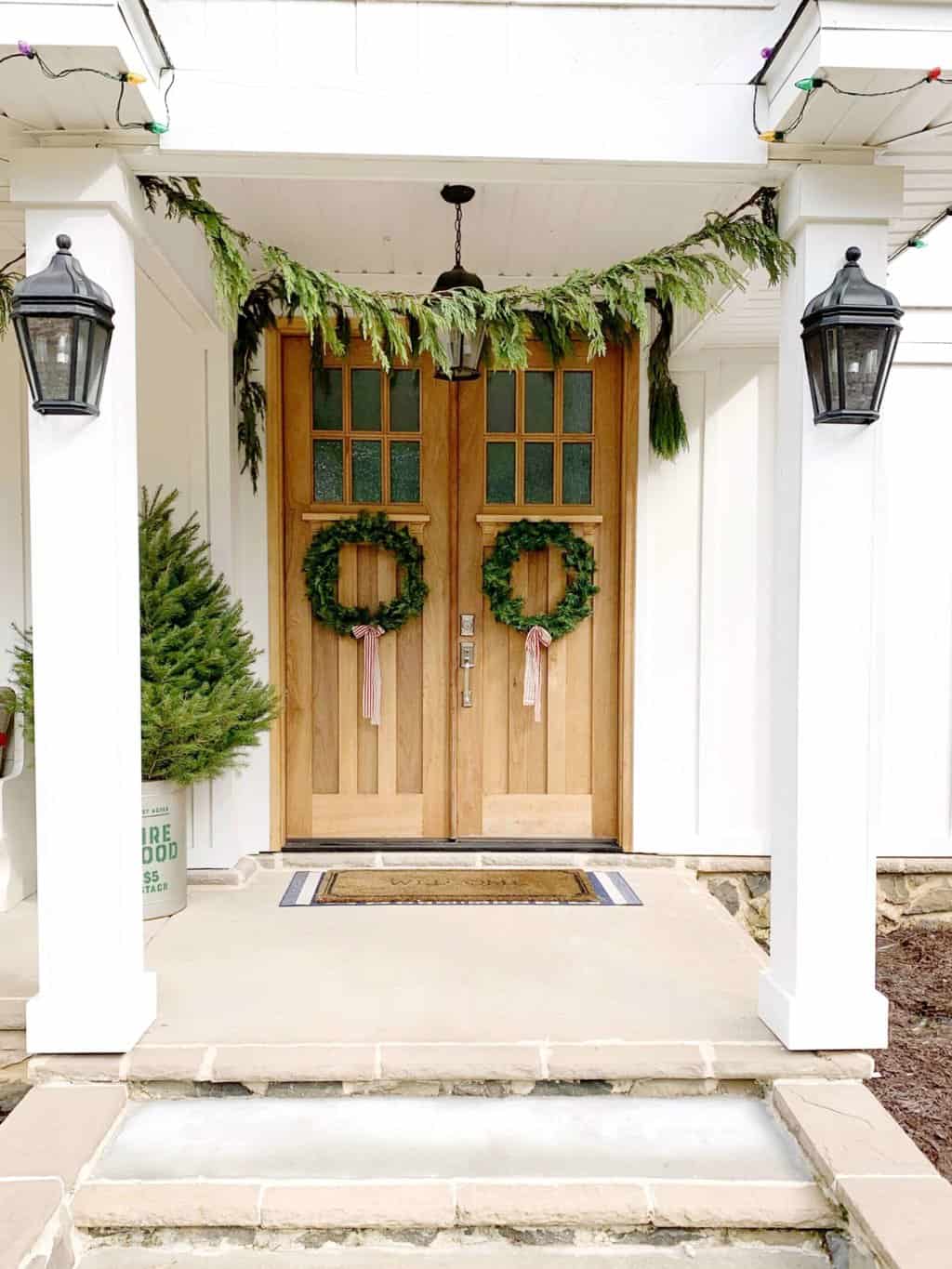 questions that have been asked
How long do you let the wreath dry? It really depends on the spray paint and weather conditions. I let mine dry overnight. Read the spray can and follow its instructions for paint drying time.

Can you use a real wreath? Yes! You can. For me, it's hard to use real green plants because I'm so allergic. I highly recommend getting a real wreath if it's in your budget and you aren't allergic.
Will this wreath go with my other Christmas Decor? Yes, I highly recommend getting a ribbon color to blend well with your other decor.
Does the paint rub off? It shouldn't. Y'all! I'm being real here but some of our really high windows had the wreaths on them for almost a year and they look great a year later! Okay have your giggle now.
You may be interested in this Christmas Scroll Project [HERE] and Christmas Ornament [HERE] or go take a look at a Christmas Tree Blog Hop [HERE].
Wreath Blog Tour
Now it's time to go check out my friend's DIY wreaths. I think each one has a different look and would be great during the Holidays.
Leah from My Thrifted Nest Shares how she turned an Old Knit sweater into a wreath!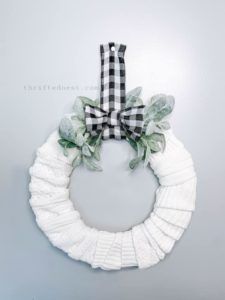 Next take a look at Hello Central Avenue. Rebecca makes a faux winter wreath.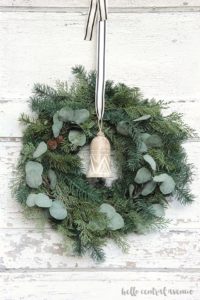 Jill from Impressive Windows & Interiors shows us how to turn a $17 wreath into a $170 wreath.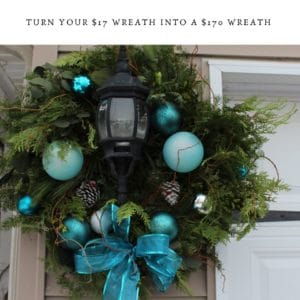 Our Crafty Mom aka Michelle uses items from the Dollar Tree to make her wreath.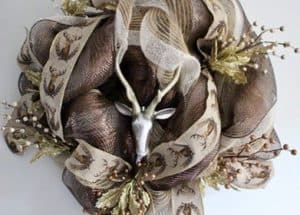 Kippi from Kippi at Home (have you seen her Laundry room makeover??) shares Gorgeous DIY Christmas Wreath Ideas.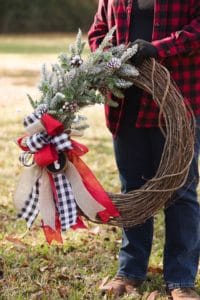 Do you like Pom Poms? If so go look at Jessica from Jessica Welling Interiors take on Pom Pom Wreaths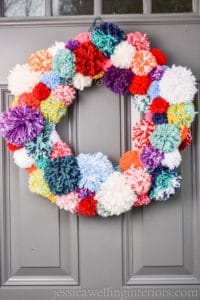 Lia shares her wreath. Look how cute it is.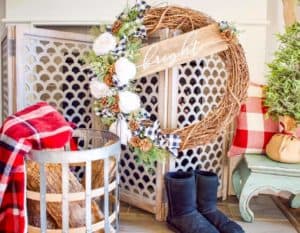 Pamela over at DIY Vibes – shares her beautiful embroidery hoop wreath.
And for a fun alternative to a traditional wreath, try this candy-cane inspired rustic door hanging from Just That Perfect Piece.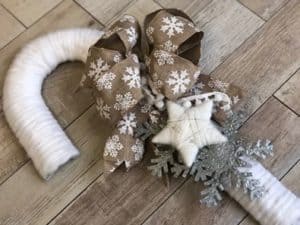 Rebecca at Zucchini Sisters shares her cute adorable Neutral Pom Pom wreath.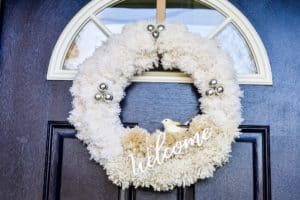 Last but not Least – Take a look at a Coastal Upcycle wreath from Jane over at Sustain My Craft Habit.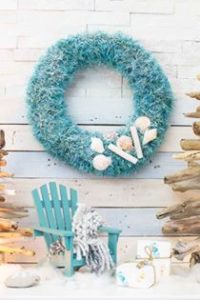 Until Next time! Have a good evening.