DIY Lash Lift or let your crazy husband
Do you ever get crazy ideas? at 11pm?
That consist of watching YouTube videos?
And deciding to perm your eyelashes at home?
Then begging your husband to lift your lashes? AKA Diy Lash Lift
No?
Just me… oh okay!
Well keep reading to see just HOW that turned out!
UPDATE: Keep reading until the end to see my 18 month update to DIY lashes at home.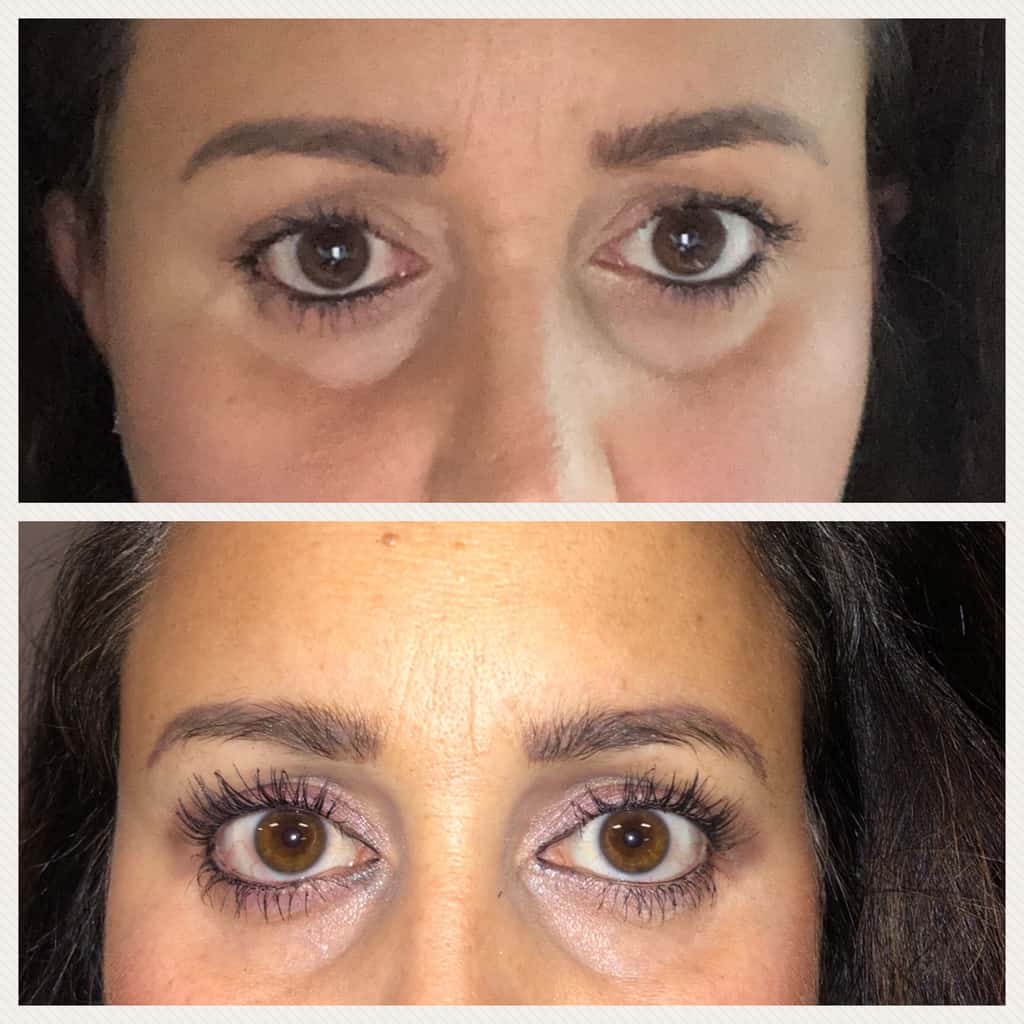 This is a warning to let you know that you should seek a professional but if you do try this, it is at your own risk. I am not liable for any problems that may arise. I also have affiliate links in this post. Please read my policy on affiliate links (here) if you want.
having the great diy lash idea
I asked on Facebook a couple weeks ago to see if any of my friends ever had their lashes lifted.
I'm over the lash extension thing.
Don't get me wrong.
I loved it when I did it.
But 2012 to now is a long time doing the same thing.
I started using Rodan and Fields lash stuff (no I don't sell it I just buy it) And noticed my lashes were long but they stuck straight out.
And after curling them
Just like my hair with humidity
The lashes would fall.
Back to the Facebook post …
I had many friends that said they loved getting their lashes lifted.
And I had one that said she did it herself.
As always
I love being a DIYer
So it peeked interest.
I messaged her
Got the details
And bought this stuff right here.
INGREDIENTS

Lash kit – buy here
Accessories – I highly recommend – buy here
After watching some YouTube videos and talking with my friend I was determined I could do it myself.
And then came the great con of 2018.
Basically
I told my husband for my Christmas present I wanted him to do my lashes. And I guaranteed he could watch some YouTube videos and be a pro in no time.
So off he went.
To study.
We then set everything up and we were ready to go.
Like I said I had been getting extensions since 2012. I knew how they set things up. So I set him up a space.
Had the kit.
And other supplies needed.
All nice and neat.
I laid on the bed.
Got comfy.
And he went to work while a YouTube video played right beside me.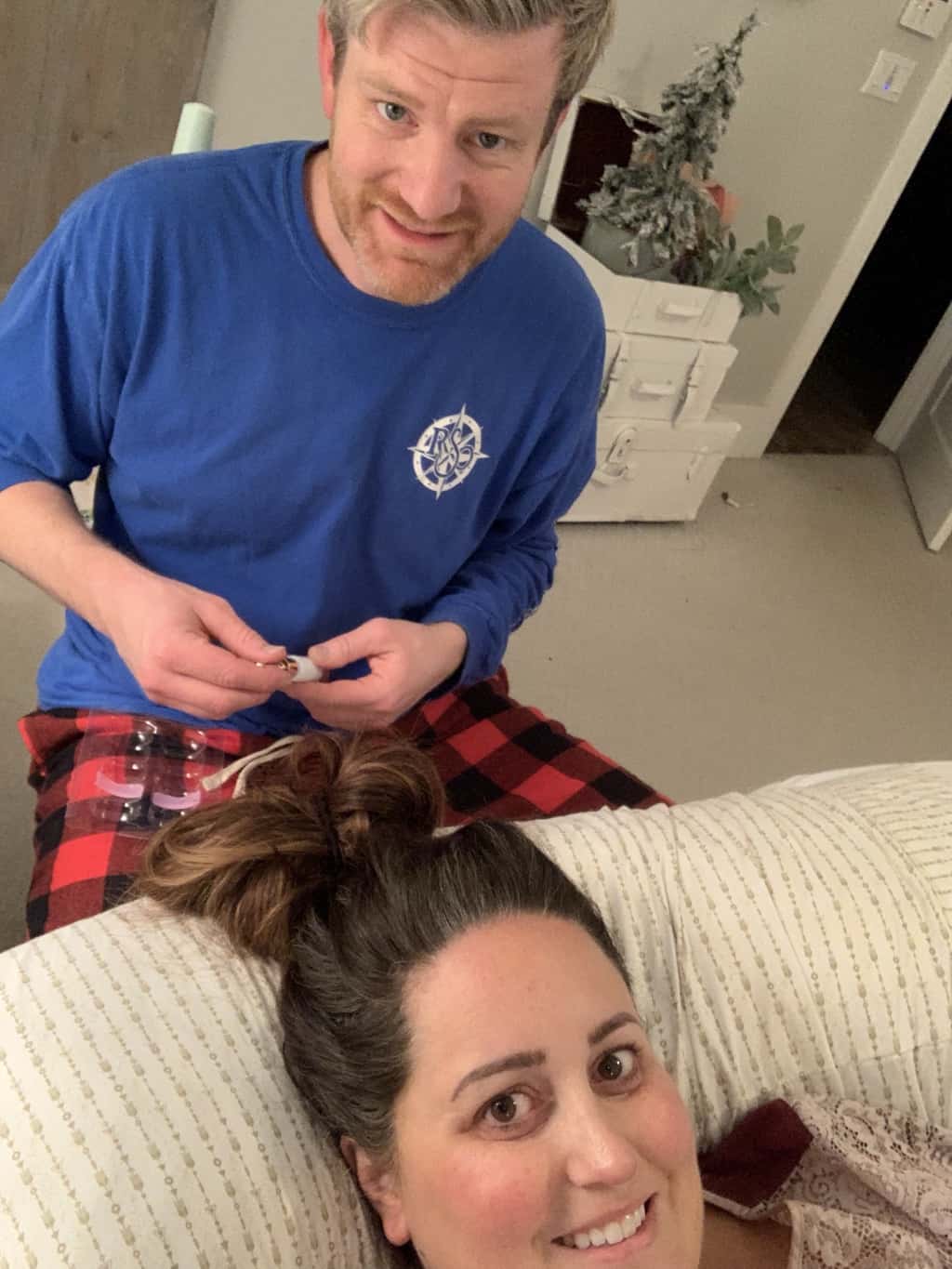 The only thing I knew was you have to let the glue get tacky.
So he did.
He applied the glue to the shield thingy
It got tacky.
He put it on my eyelid.
Okay so -he's doing great.
I remembered the videos
They stressed
When you glue the actual eyelashes to the shield
Make sure you glue them straight.
Or they will lift weird.
I stressed that to him.
Over and over.
This part took a while.
He used
A mascara brush thing
Another makeup brush
A toothpick
And something else
To get those lashes straight.
Once he got the left eye done he wanted me to look to make sure he got the glue on before he lifted the lashes.
My eyes were still shut.
He handed me a handheld mirror
And I opened my eyes.
My left eye wouldn't open
I couldn't open it
Why couldn't I open it
He
Had
Glued
My
Left
BOTTOM
Lashes
To the shield
Along with my top lashes
I screamed.
Then freaked a little.
He didn't realize he had done this.
So he freaked a little.
I asked him if he realized I would have been blind for a month.
Because if I wouldn't checked.
He would have lifted my bottom lashes
And they would have stuck straight up
In front of my eyes.
Lol.
I knew it would be okay.
Right? It had to be okay.
He started picking the bottom lashes off with the toothpick
After about 15 mins.
We were good to go.
He handed me the handheld mirror.
Freakout #2 started.
My lashes were all over the place.
It looked like my 10 year old daughter's bed head
with a rat nest in it
I didn't know my lashes could go horizontal
They literally were fighting with each other
Pointed toward my ears
I screamed
Mike….bless his heart
He thought they looked good.
I declared they definitely didn't look like the pictures.
Or the YouTube videos.
So we got some more glue.
And fixed them.
At one point he dropped something on the floor.
And said a bad word.
My heart started to race
I told him you definitely don't scare the person laying down
That if you were in a real salon
And the lash person messed up
They would ask you a dumb question
While silently Swearing
He started the video again.
The part we were at was at the lifting part.
The girl declared the stuff smelled horrible.
She was prob a 21 year old YouTube millionaire.
Mike opened the bottle.
He declared it smelled horrible.
I smelled it
And immediately I was transformed to…. 1990
Sitting in the salon chair
Getting my first perm
Gosh why did my parents let me get a perm?!
Then it made me realize
21 year old billionaire youtube girl
and DIYer Mike the eyelash guy
had never smelled a perm.
That's why they thought it smelled bad
Since I had many perms.
I knew the steps.
I felt confident once again.
Perm
Set
Condition
So he started to lift aka perm my left upper lashes.
While we let those sit
He started my right side.
We were moving along
No bottom lashes glued
They were all straight and beautiful. Look at this picture. Beautiful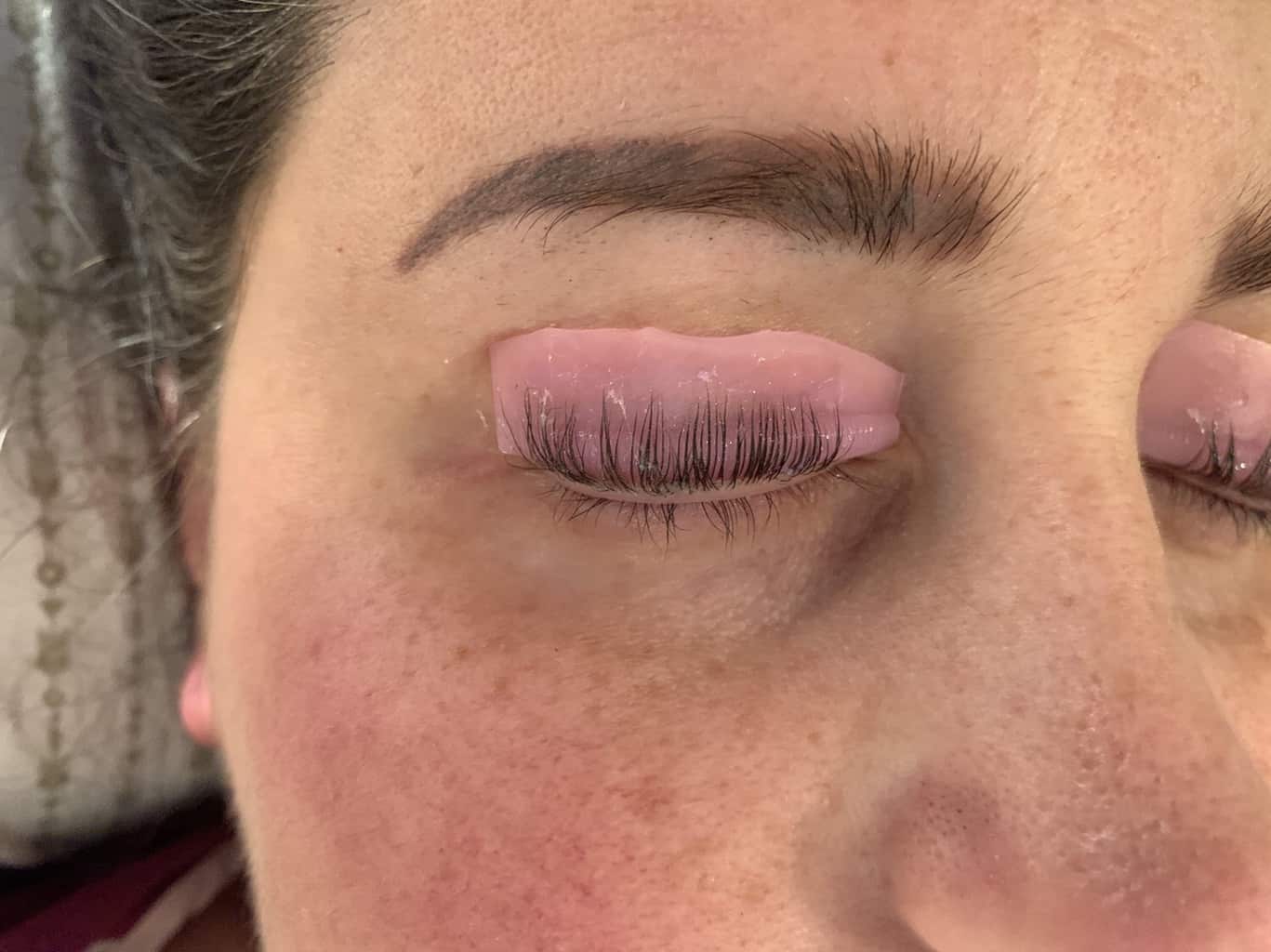 Perm solution was going on
And Bam!
A burning sensation like no other.
I remembered once I got essential oils in my eye
That I read….milk helped the burning sensation
I don't know if I made that up
But I really seem to think I read that somewhere.
So
I'm screaming
He's screaming
I tell him to get milk
And feel like at this point he brings back the entire gallon
I scream no!! Get a syringe
So he brings back a glass
And a syringe
I'm yelling to him to shoot it in my eye
While of course….
not getting my perm wet
Can't ruin those lashes.
Lol
He shoots
He scores.
I feel relief…. for 3 seconds.
Then the burning starts down my face.
All down my face.
Where the milk is flushing the chemicals out of my eye.
I know for sure….
I'm going to be blind.
And have chemical burns.
I scream to get the body cream with charcoal and aloe.
He slapped some on my face.
A lot.
But I felt Relief.
Okay
Timer is going off for left eye.
He's got to do the next step.
It goes smoothly.
Repeat to right eye.
We got this!
Left eye.
Apply conditioning cream
Clean lashes
Get glue off
I am so excited.
I can't wait to see my beautiful lashes.
The ones that are going to be like a Lash Goddess.
I'm going to be fierce
He hands me the hand held mirror
And they look
Like I dipped my eyelashes in Elmer glue with a side of pink eye.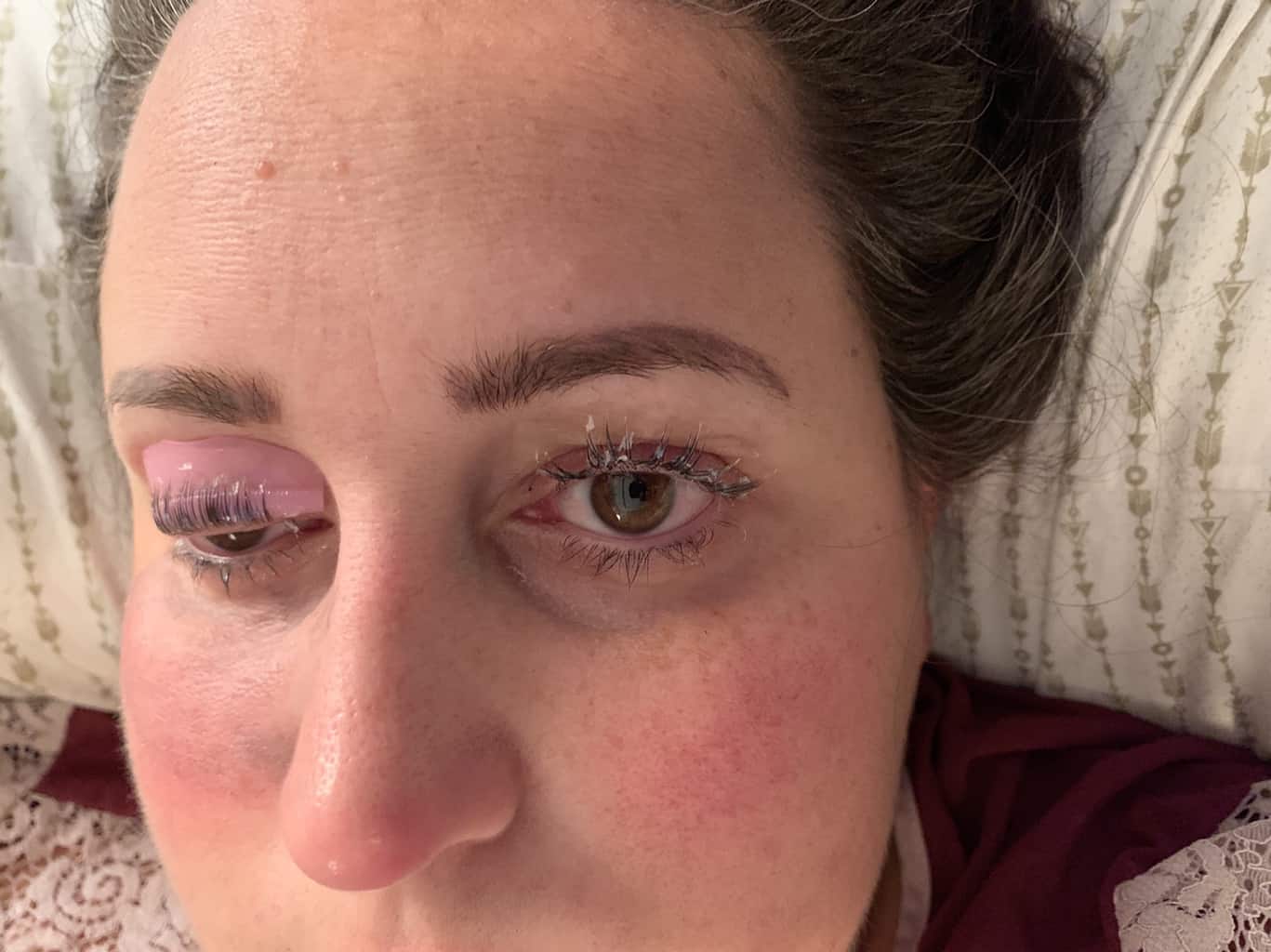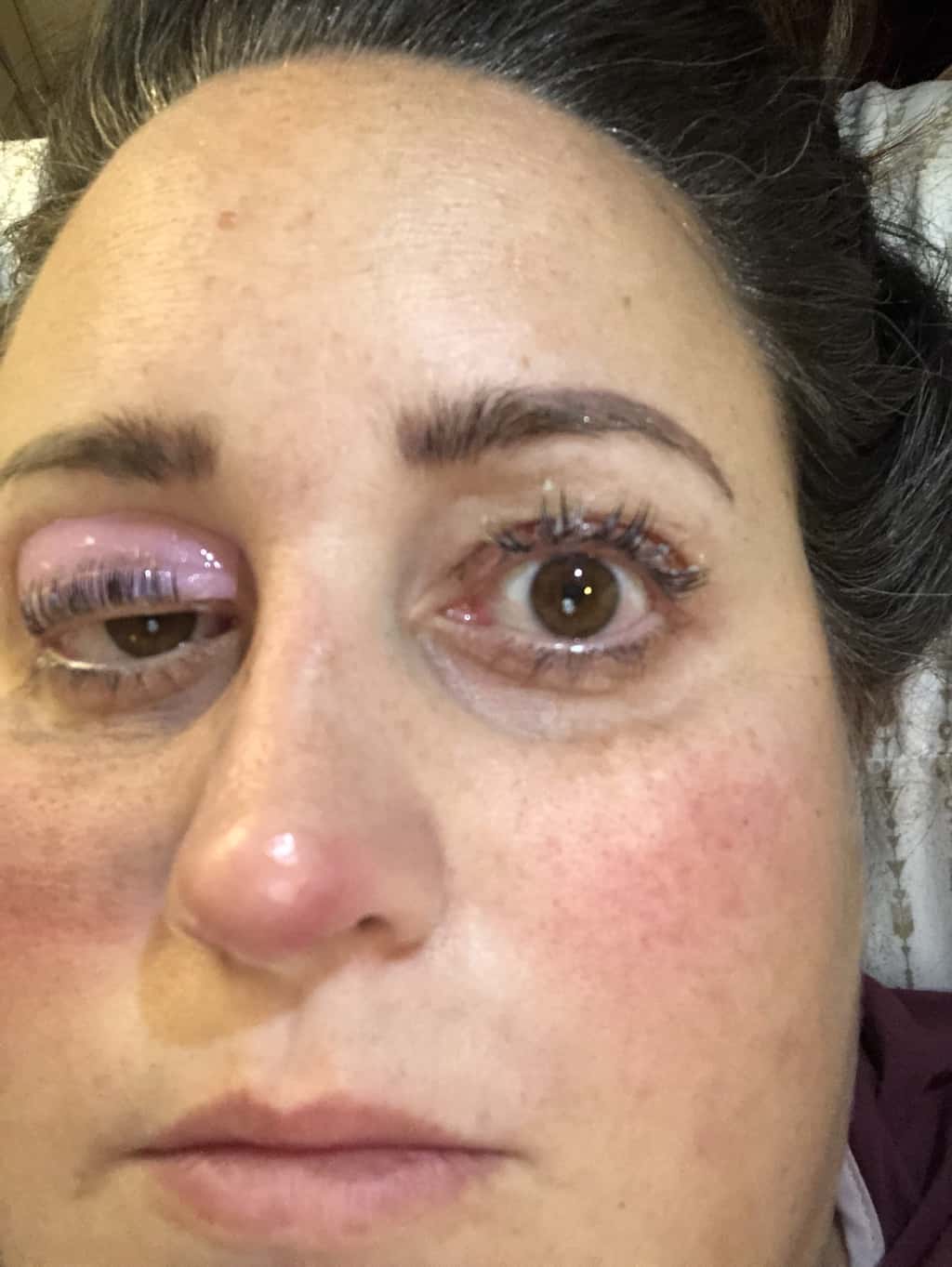 Oh. My. Goodness.
He starts taking the glue off.
And my eyelid is like stuck to itself
I feel like I will never be able to close my eyes again
I look like I'm trying to do some weird wink
Or maybe just had a stroke
Once again
I'm a little anxious.
I tell him we need coconut oil
We got some coconut oil and went to town.
The glue was finally coming off
Once again I felt relief.
It IS our first time.
I heard you get better with practice.
And I remember they [the lashes] were fighting earlier
they were crissed crossed
And pointed towards my ears and the floor
So it's okay.
It could be worse
I could have bottom lashes pointing toward Heaven.
I just can't wait to see the right side.
They looked fabulous
When he got the glue on them.
So I know they had to look better than the left ones.
The timer goes off for my right eye.
He gets the glue off.
I haven't looked at this eye yet
I'm going to wait and look in a full mirror.
I sit up
At this point it's been over 2 hours.
Somewhere in the 2am hour.
I turn to move to the edge and I see his bedside table (see pic)
My mouth hit the floor
What.
In.
The.
World.
Probably the biggest mess I've ever seen
It looks like a lash perming station bomb went off
Or one of those ER scenes in a movie or show
He had q tips sticking out of the kit containers
I told him we definitely couldn't reuse them now.
Cross contamination and all
He said he didn't know
Y'all.
I don't even know what happened.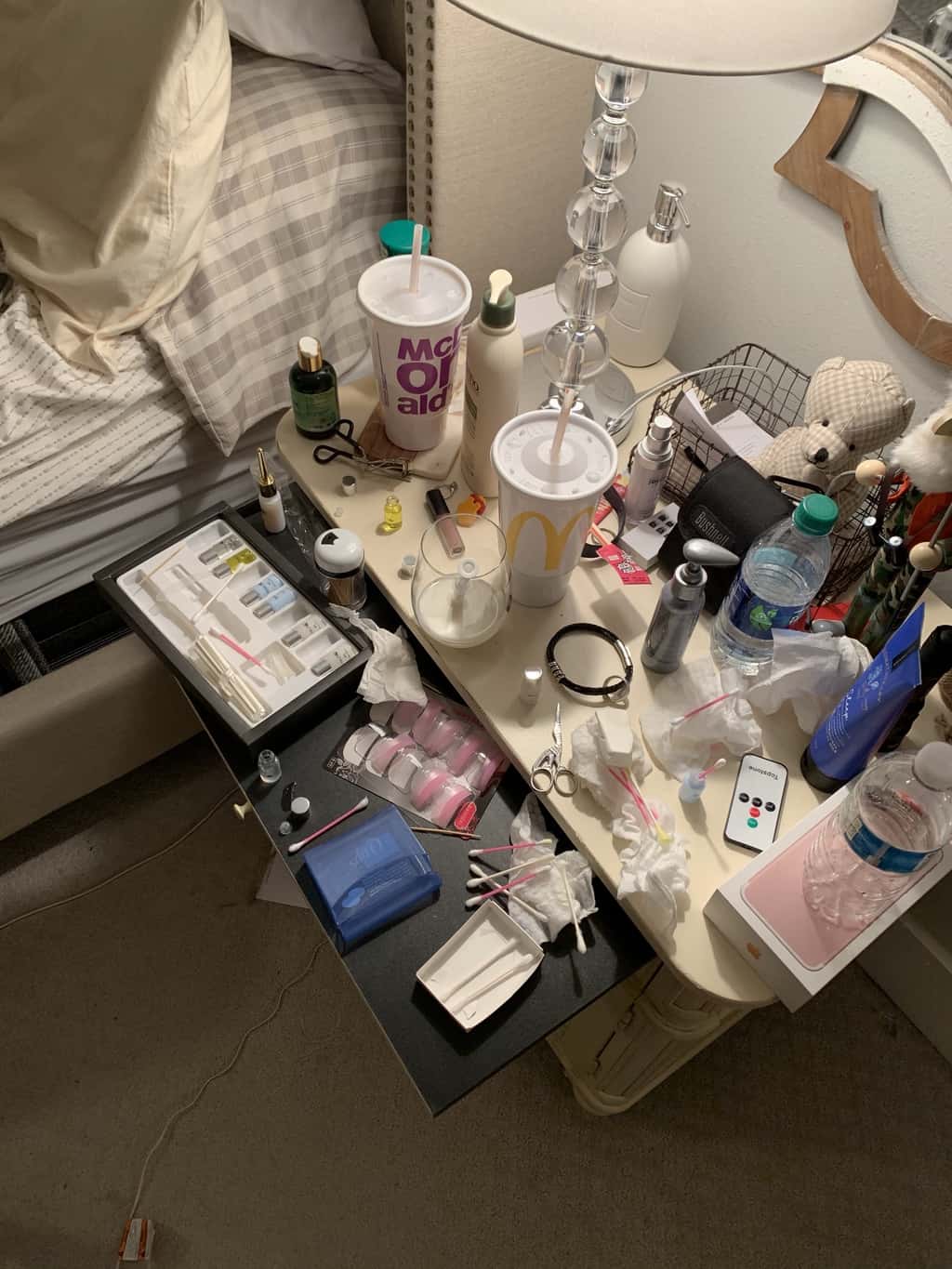 Or how it got that bad.
I try to ignore it all
Because after all
Lash Goddess
I needed to see my lashes.
Live and in color
I go to the bathroom
And you know how sometimes
You catch a glimpse of something
And it catches you off guard.
Yep.
I was caught off guard.
I had a black eye
Not literally but literally
He had rubbed so much charcoal cream under my eye it looked like I had ran into something.
After getting a wet wipe and wiping the charcoal cream off
I couldn't believe it
Staring back at me
Were the most perfect natural looking lashes.
I. Was. A. Lash. Goddess.
Y'all
Look at these before and afters if you don't believe me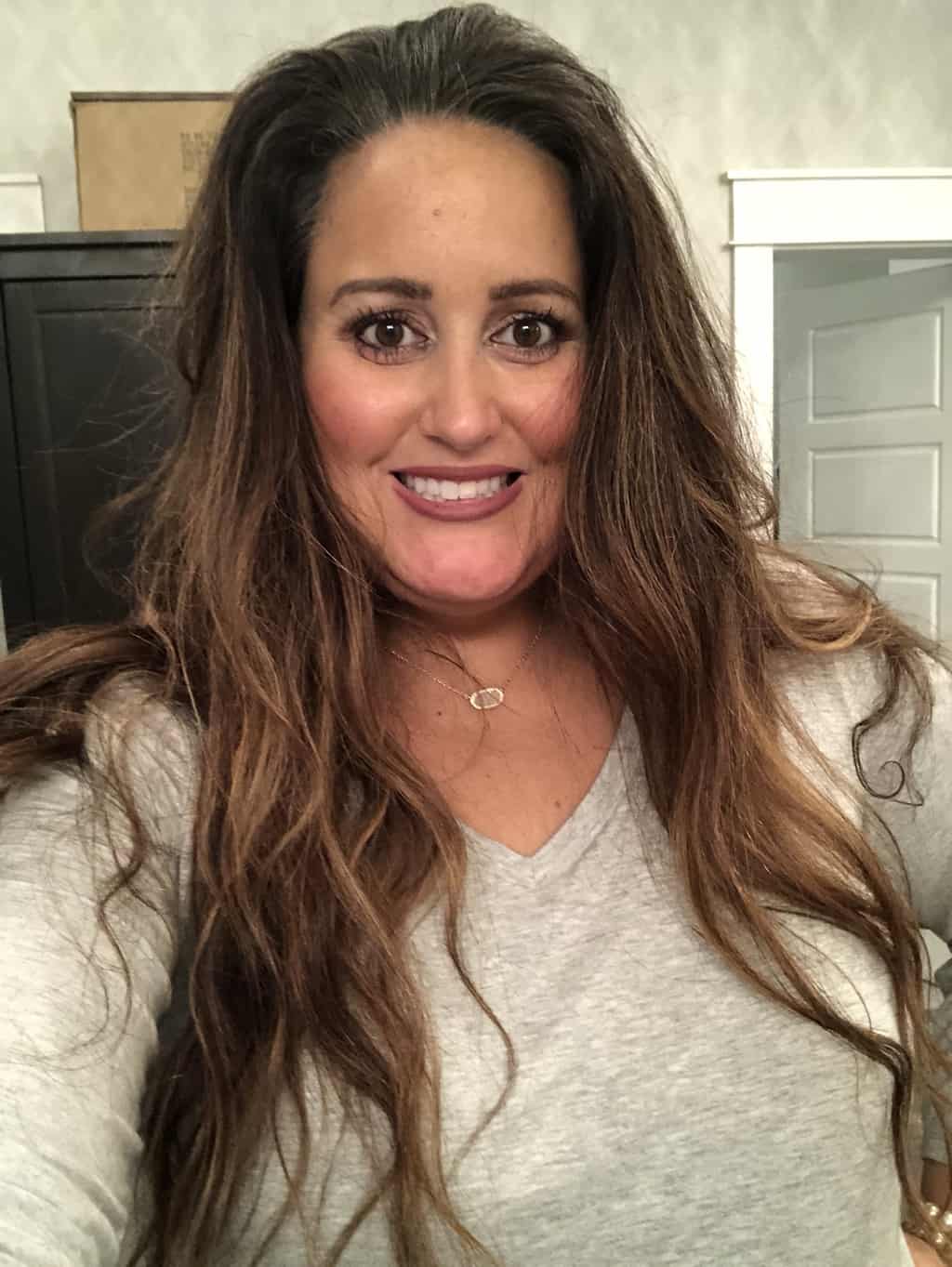 The next day I posted the pic below about awesome rubber bands on FB..
I had three people message me. About my eyelashes!)
So there you have it.
You can take a chance if you want
I definitely will keep doing this
Or ahem…
making Mr. Lash man keep doing them.
I'm so grateful for a guy
That puts up with my crazy
11pm ideas…..
I think the DIY Lash kit at home had GREAT results.
Here is an updated before and after picture. 14 days apart. What do you think?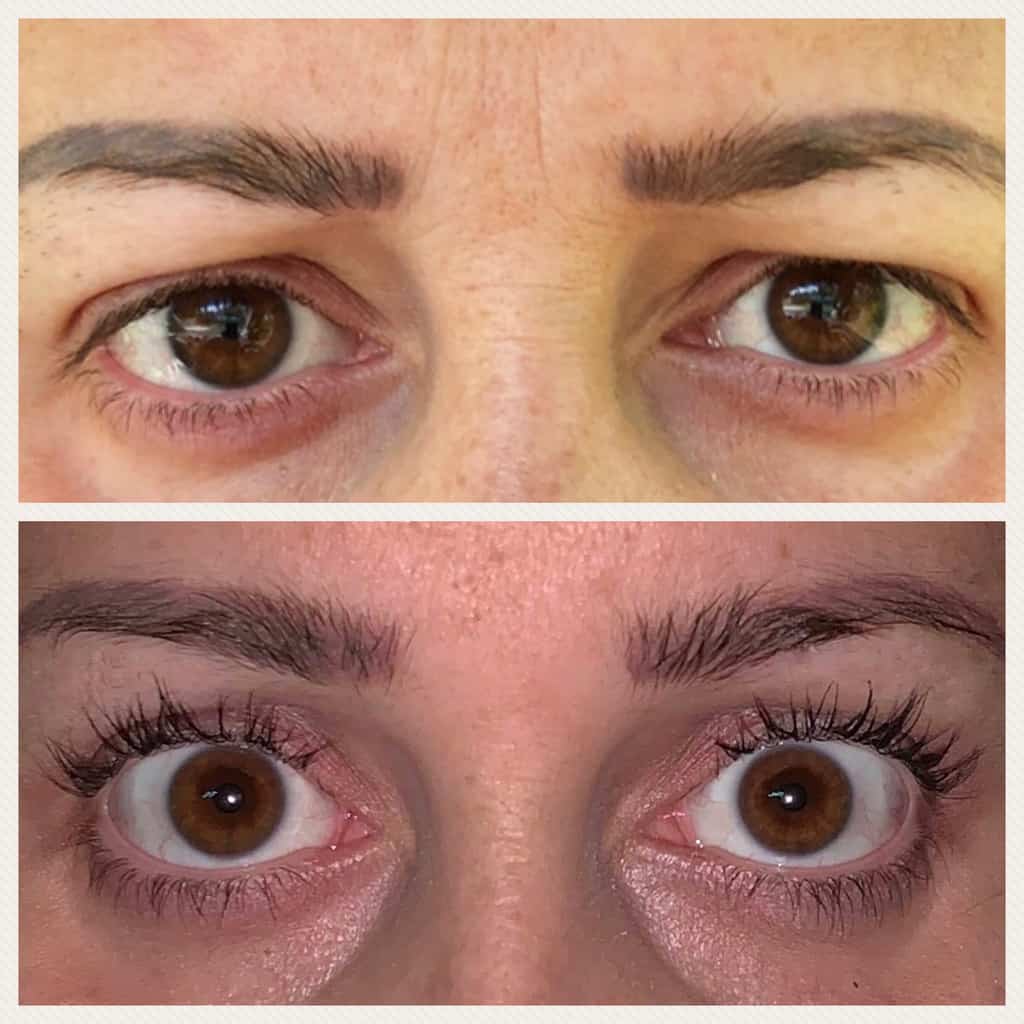 Comment below and let me know if you think this would be something you would do!!
UPDATE: Well It's been a little over a year and a half and I must say my lashes still look great when I perm them. I don't recommend doing this every 2-3 weeks – but for special occasions or during summer when it's hard to wear mascara when you are constantly getting wet. [HERE] The mascara I love to use when my lashes aren't permed. Don't forget to use a curler [HERE]
If you want to check out some other DIY's please check out this post [HERE]