What a year this has been, am I right? Not only has it been a crazy year, but it also seems to have flown by this last part of the year. In October, I start itching to get my Christmas decor out. This year was the same. This year, many stores are different, so I decided to use the same decorations on my tree, but I wanted to Make my Christmas Tree Look Different this year.
I can't wait for you to KEEP Scrolling to see everyone on the BLOG HOP this year!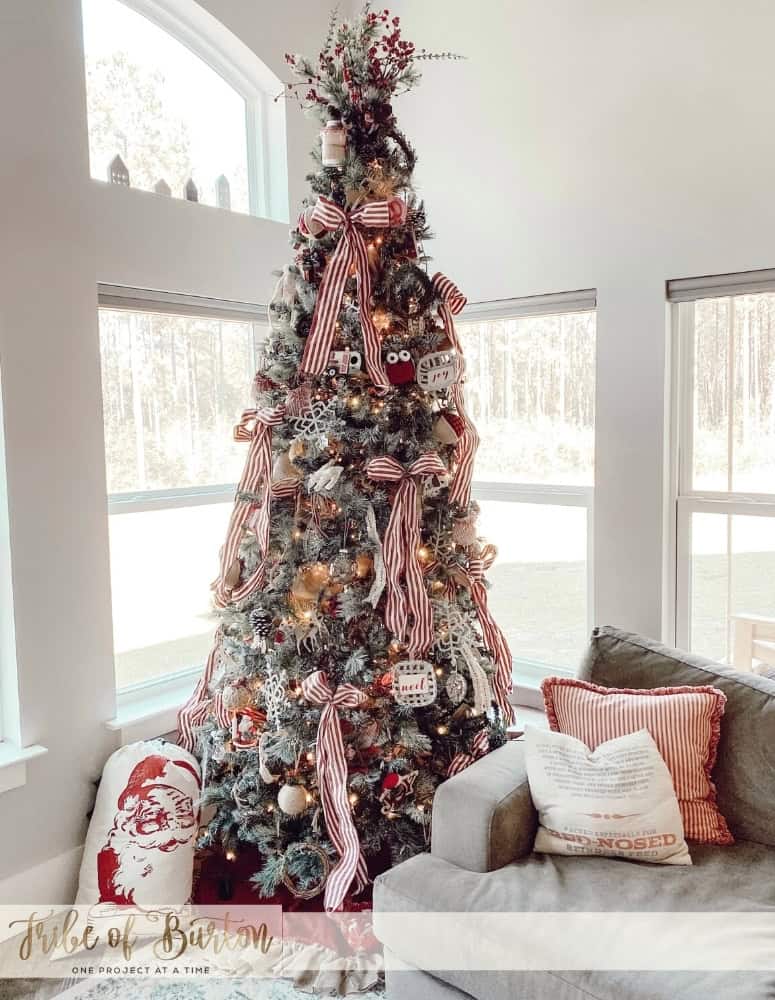 I didn't buy or make any new decorations for our main tree this year. Last year, I bet with my husband I wouldn't buy any more decorations, and I didn't. This year I didn't make a bet, but I wanted to show you How To Make Christmas Tree Look Different using the same decorations from years past.
There may be affiliate links in this post. Please read my policy on affiliate links (here) if you want.
Start With a Good Tree
We started with our Chalk Painted tree [HERE].  I think I will be on the lookout for a new tree soon. Our main tree is started to wobble and the lights don't work. 
My husband is a master tree decorator. I'm just kidding. He used to have to put up the trees every year at Sears, so I make him put on the lights for me. We have these amazing lights that we got from Sam's that can change colors or stay warm white.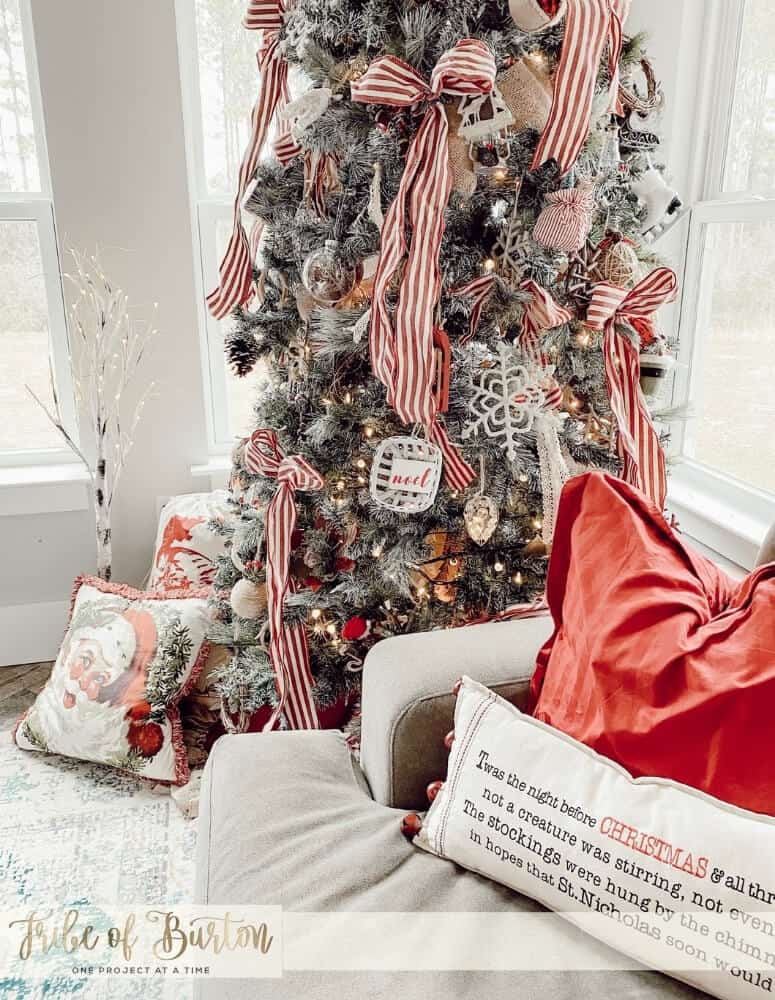 Once he gets those lights on the tree, we start pulling out all the decorations. This year my 5 year old wanted to help. Normally I lay all the decorations out by grouping so he did that for me. 
TIP: If your tree has lost some of its branches and is thinning out, go get one of these [HERE] to fill it back up again!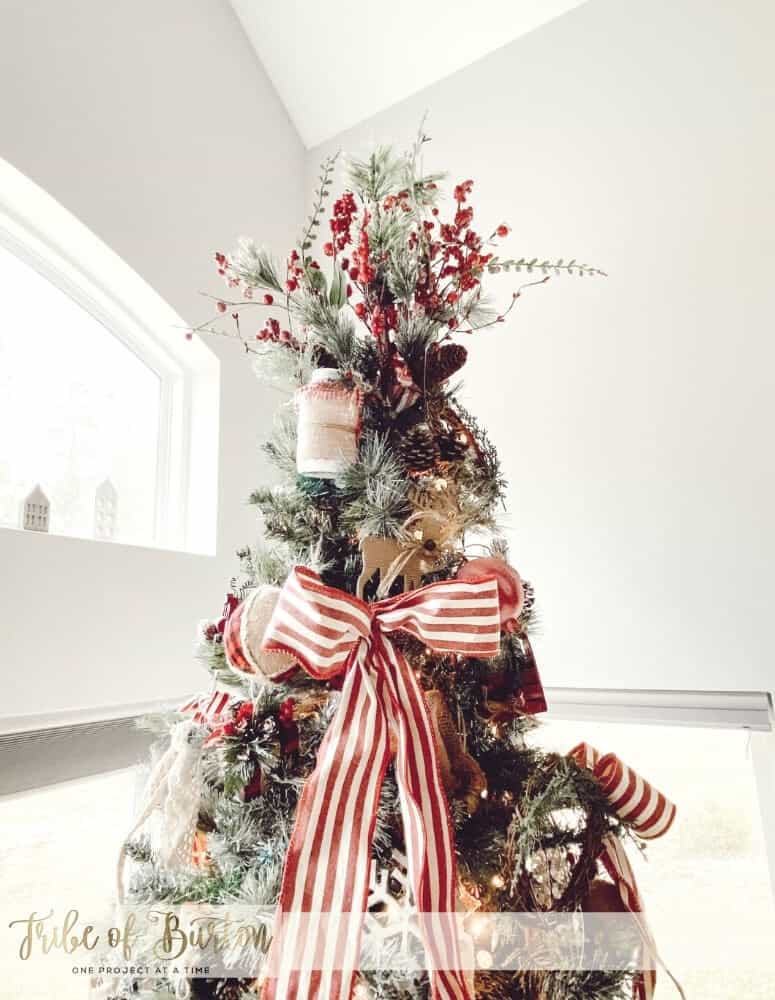 Last year I showed you guys [HERE] how I made rustic Christmas decorations for free using items from around the house. I used those again this year and ended up using these as fillers in the tree that had gaps.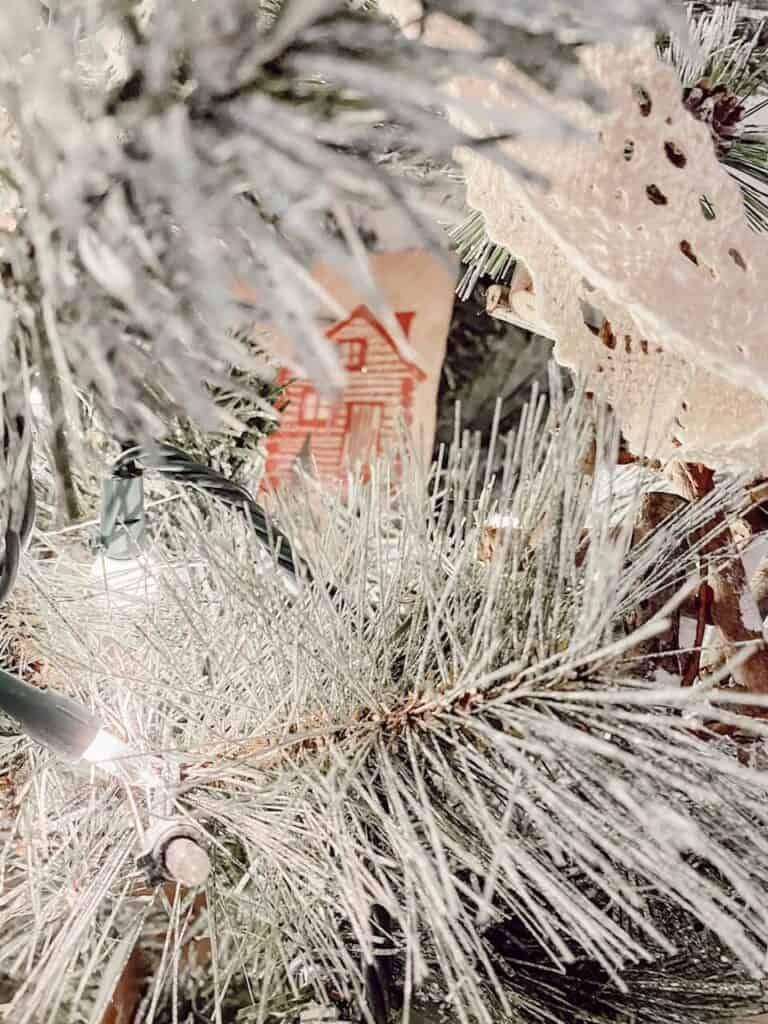 If you prefer to make a sentimental ornament then look at these [HERE].
Make Your Christmas Tree Look Different
I always start with the large ornaments then go from there. This year my 5-year-old helped me and we had a little fun with our tree. You can see the video below.
So the Ornaments I made this year were perfect spot fillers [HERE]. Can you spot it in the picture below? The key is to layer the ornaments differently so your tree will look different.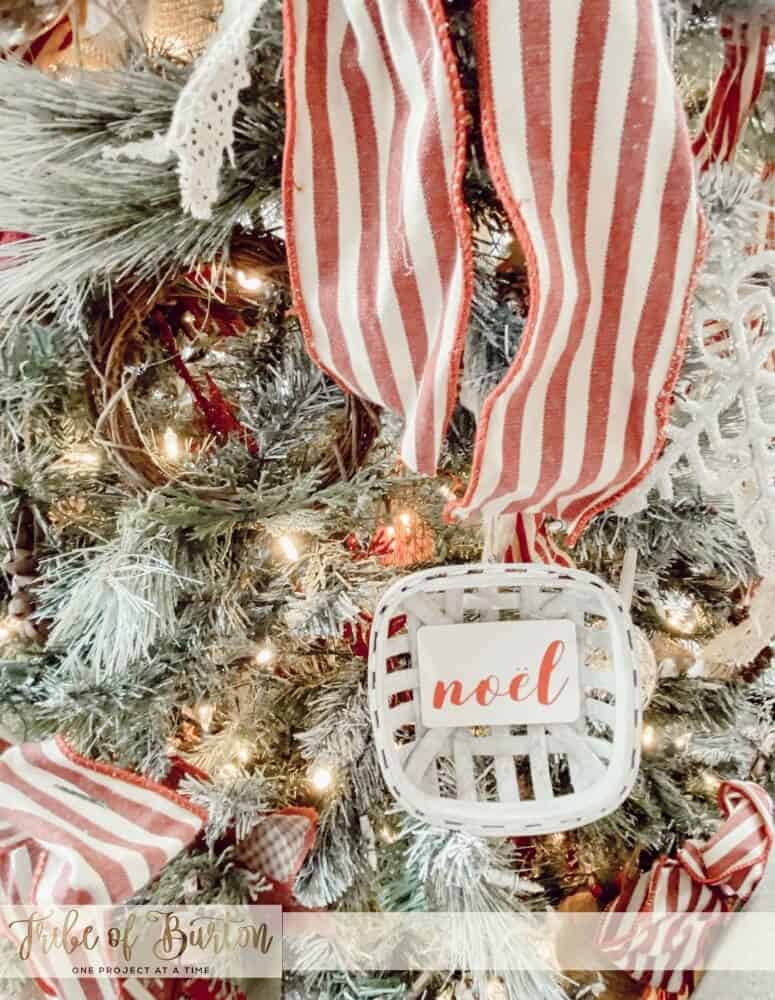 Look at these cute rustic ornaments [HERE] + Loving this Tobacco Basket Ornament [HERE]
Rustic Ribbon for Bows and Decorate your Tree or Home [HERE]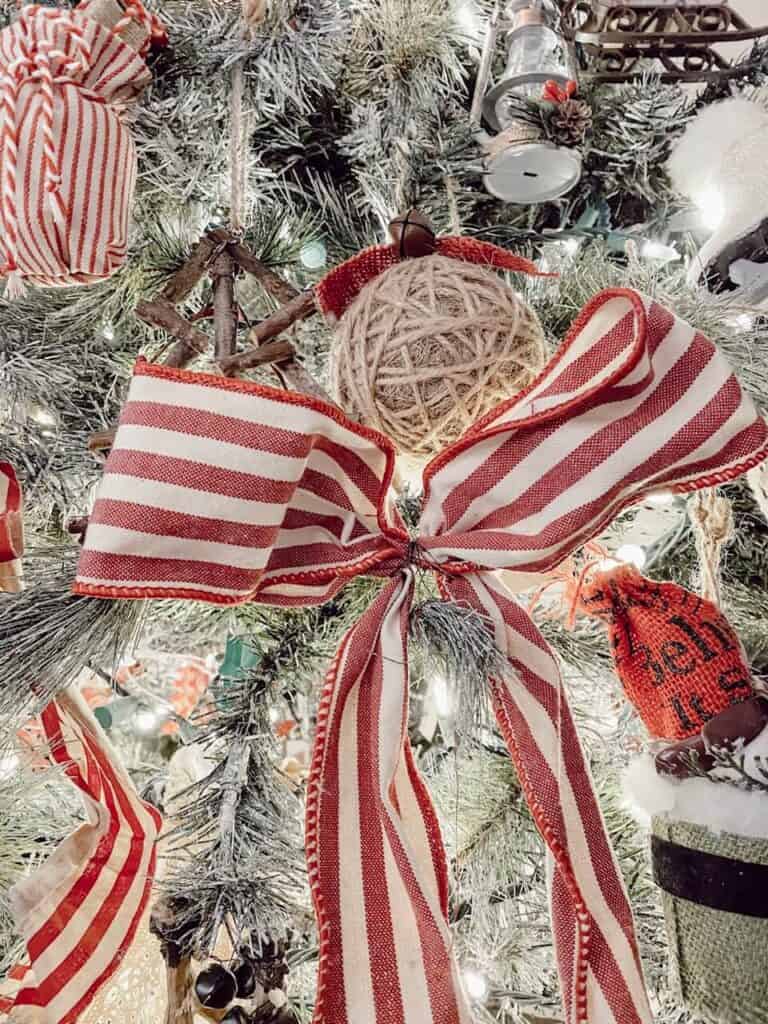 Over the years I have gotten most of my ornaments at Hobby Lobby and Walmart. You normally have to go early in the season to get ornaments. Each year we have to go earlier and earlier to look at Christmas decorations. What time of the year do you think is TOO early? I love Christmas year-round so I'm happy with year-round Christmas decor out.
If you want a traditional non-flocked Christmas Tree then take a look at the one I did 3 years ago [HERE].
These [HERE] glitter pine cones are amazing.
I hope you use your imagination to see how you can completely make a tree look different from year to year by using the same decorations. It makes everything very budget-friendly!
Similar Rocking Horse [HERE]
Chunky Throw [HERE]
Christmas Tin [HERE]
Do you ask yourself which tree you should buy for Christmas? Take a look at my guide here.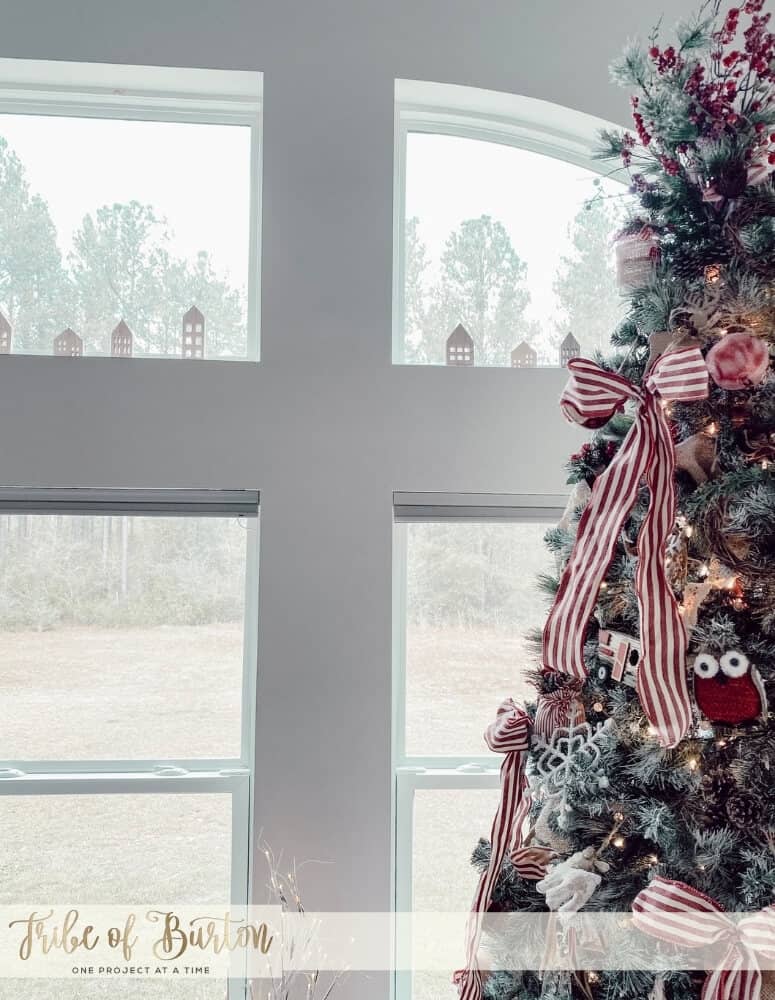 BLOG HOP
Keep scrolling to take a look at how all my amazing friends decorated their trees this year.
Have you decorated yet? If so let me know in the comments below I would love to see your Christmas tree.
Welcome To The Fourth Annual Christmas Tree Decor Blog Hop
Be sure to visit all the participating bloggers below for gorgeous holiday decorating ideas for your Christmas tree.
Our Crafty Mom
// Sustain My Craft Habit // Red Cottage Chronicles // Celebrate and Decorate
Jenron Designs // 2 Bees In A Pod // Virginia Sweet Pea // From House To Home
Tribe of Burton // Across the Boulevard // Intelligent Domestications // Simply Beautiful By Angela
Modern on Monticello // Redneck Rhapsody // Purple Hues and Me // My Pinterventures
Zucchini Sisters // One Thousand Oaks // Raggedy Bits // Southern Yankee DIY
My Sweet Home Living
// Pretty DIY Home // Michelle James Designs // Daily DIY Life
Happily Ever After, etc.
//
Kippi at Home // Simple Nature Decor // Design Morsels